In May of 2018, a mom was humiliated for trying to board an American Airlines flight with her carry-on and breast pump. It sparked massive outrage (rightfully so!) and has helped to get other airlines onboard with better treatment of breastfeeding moms. Airlines have been hard at work to educate their staff so that this sort of embarrassing situation never pops up again.
Part of what will help you is knowing your rights as a traveler. I'm going to tell you all about what the TSA permits as well as what a few other countries have in place as regulations. But I'm telling you now, please contact your airline too because each one has different rules and you don't want any surprises. I'll talk about that in more detail below.
Flying with Breastmilk in the USA
The TSA rules for US travel are pretty friendly for breastfeeding and pumping moms. Lots of progress has been made here, though they still will need to check your carry-on items like everyone else. They permit breastmilk, formula, and juice for your baby or toddler in what they call "reasonable quantities" though which could be subject to the discretion of the TSA officer that is screening you.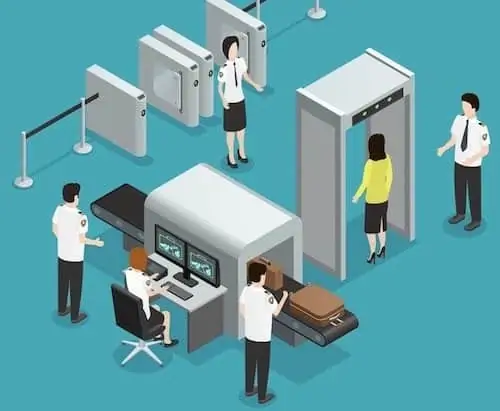 Before you go through, tell the TSA officer that you're traveling with breastmilk. You're allowed to bring more than 3.4 ounces (100ml). If you have a baby along, it's relatively easy but for moms that pump while traveling solo, you'll need to be vigilant. With baby or not, take your breastmilk out of your carry-on so it can be screened separately.
Depending on how much you have with you, you may be asked to allow them to test it by pouring some into an empty container or subject it to X-ray. The FDA has announced there are no adverse effects from consuming foods or beverages that have been X-rayed.
Remember that:
When traveling with just your breastmilk, you should know that you are allowed to bring ice packs, frozen gel packs, and things like this that you'd use to keep your breastmilk cold. If they are partially frozen though from being out and about, they may request to inspect these items just for safety. Got a baby eating solids? You can still bring baby food (jarred, canned, or processed) in carry-on luggage though they will, of course, be subject to screening too.
Flying with Breastmilk in the UK
Planning on traveling to the UK? You can take enough breastmilk, baby food, and water without any legal limits imposed, but it's a good idea to make certain with the airport you're traveling through first. A travel agent is a great helper in matters like this. They can help you make the right arrangements for smooth and easy travel.
What's different in the UK is that you can't carry frozen breastmilk in your carry-on luggage. You'll need to check that with the rest of your baggage. All containers of breast milk are limited to 2,000ml maximum and will need to be screened at security.
Flying with Breastmilk in Australia
According to the Australian government website, if you are traveling without your little one, you may only bring 100ml or less of expressed breastmilk in transparent, resealable bags that contain no more than 1L total. You will need to use an insulated container to carry larger volumes of breastmilk and check it with your luggage.
Flying with Breastmilk in Canada
The Canadian government website reports that moms with and without their child traveling can bring breastmilk in larger quantities than 100ml as long as you alert the screening officer for inspection. They also allow gel and ice packs. Even dry ice may be allowed, depending on the air carrier you use so be sure you know before you go. Print out anything official that states permission for it and carry it along just in case.
They have very specific rules for the use of dry ice in that you can't take more than 2.5kg per person, it must be packaged in such a way that it releases carbon dioxide, and it must be clearly labeled.
Flying with Breastmilk in China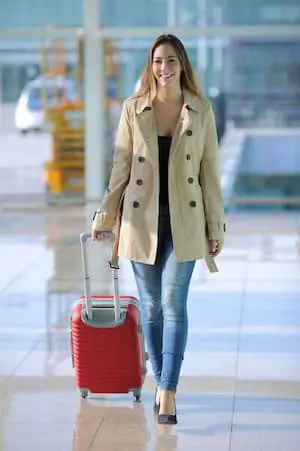 For China, I never once had a problem traveling through the country with my breast milk, but there are some quick guidelines here for liquids in general that restrict it to 100ml. I always just breastfed on my journeys through the mainland and maybe had a couple of bottles of expressed milk from pumping to relieve my breasts of engorgement.
Many moms in China use formula and I would see them going through screening with formula without an issue. If you're planning to visit over there, be sure to contact a travel agent who can help you claw through the red tape to ensure your airline will allow it.
Because it's hard to find answers in English, I did check with China Southern Air, one of the big airlines, and its website advises that any liquid greater than 100ml needs to be included with your checked baggage.
Prepping to Take Flight with Breastmilk
Traveling by plane with a baby is a lot of work, really it is. There's so much to pack and prepare and the whole thing is exhausting. For me, this is why I was glad I always had my babies with me on flights. I did also tote my breast pump on longer excursions just in case. You never know when you may need that thing even when you've got your little ones near.
On top of that,
There are a lot of judgmental people out there. They give you the stink-eye because your baby cries. But babies cry! Ignore those people, please. Most people are nice and I have to say that in China, every time we traveled domestically, we were treated wonderfully.
The conditions aren't as nice, but the flight crew and security were very kind to us. On many occasions going through security when we had our arms full and were trying to get our daughters out of their carriers, the screening officers stepped in to help hold them and help us with our carry-on luggage.
Speaking of carry-on luggage, a breast pump falls into the category of medical device so it doesn't count as your carry-on. So load it into its carrying case and tote it along. It helps to organize it so that they can screen it quickly and efficiently and move on.
While that's good news and while all airlines must permit it, it is wise to contact the airline and document all the information you find in regard to medical devices. Some staff, like the employee in the news article I linked at the beginning of this post, are not well-informed and having all information – from the TSA and from your airline's website – printed and along with you can save you tons of hassle.
How to Pack Your Breastmilk?
So you're ready to go! If you're taking milk with you, make sure you know what's allowed based on what I mentioned above. If you have more milk to send, you might want to inquire with your chosen airline on how to ship it ahead of time. If you're just going with a few bottles, the process should be very easy.
This is important:
If you work, you likely have a small cooler bag you tote your expressed milk in already. You should put your bottles in there with an ice pack. Try to be sure it's frozen solid or as I mentioned above, you will have to let the screeners check it out. If all is packed according to the specs for your country of origin or destination and falls in line with what your airline states is permitted, it should be very smooth sailing on through the checkpoint.
I'm There…Now What?
Once you arrive at your destination, it can be a little odd pumping in an odd place, especially if you have jet lag. In China, my husband made this very comfortable for me. We did have to pass through Seoul, South Korea and I seriously wanted to stay in that airport forever. They have nursing lounges there that are clean and have nice, private places where you can nurse or pump. I love that airport!
Note that.
If you've got your little one along as I always did, you'll find ways to make the most of your situation. One of my best tips is to check with your hotel before booking to see if they have a mini-fridge in the room. I've found that when they don't, most places are incredibly accommodating for your needs, whether it's for storing your breastmilk or if you had a medication that needed to be kept in the fridge.
For a foreign country, have a travel agent help you out to ensure you have just what you need when you arrive. It's stressful enough to be a new mom. You don't want to go into panic mode wondering how to care for your breastmilk.
In the US, it is referred to as a medical liquid so you may not be required to pay an extra fee for having a mini-fridge in place in your room. Like I said before, just check first!
You can clean everything you need for your pump and equipment in the sink which is the easy part. Designate a clean towel for laying out all your cleaned gear to dry after each pumping.
Other Travel Tips with Breastmilk
Because I traveled with my children along, I never had to deal with the experience of pumping and bringing back lots of milk. So I asked my dear friend Cindy who is a rockstar mom, one who has managed to soar at her career and parenthood with impeccable grace.
Cindy is always traveling for work, so I asked her what she had to say in addition to what I've already mentioned for moms that are traveling sans kids that need to pump and bring breastmilk home.
"Always call the hotel you're staying at and request to use their freezer. This way you've got frozen milk which packs really well in your checked luggage. I do this for my longer trips. I have never had trouble flying with breastmilk in my carry-on," she said.
Tips for Coping with the Flight
One thing I can't stress enough when you go with or without your baby is to have sanitizing spray that complies with TSA and/or disinfecting wipes. You'll want these to keep your pump and bottles clean on the go.
If the baby is with you, you'll want to keep your breasts clean from sweat and dried breastmilk as well as keep those little hands free of gross germs.
Please try not to imagine how many germs are lurking in the airport on every surface you touch. Sorry, you did, didn't you? I know. I did too. Yuck!
As mentioned, the pump is a medical device and does not count as a carry-on item. Other baby items are also not considered as carry-on luggage but each airline varies on what they allow in the cabin or checked. Make sure you confirm before you get to the airport so you don't waste time having to check things with your luggage.
One thing I strongly suggest is that:
If your baby is with you, it's so much easier to just wear her in a carrier or baby sling. In China, they don't use car seats so it was the easiest way to take her. In the US, you're allowed to wear your baby. You do not need to bring your car seat if you don't want to (you have to pay for the seat if you do).
And the biggest tip I have for you if you do have that baby along is this – breastfeed your baby during take-off and landing. ALWAYS! They can't pop their little ears so the pressure is what makes them scream, cry, and fuss. When they suckle milk, it provides natural popping for them which helps them chill out.
Finally,
I realize not everyone will be able to fly with their little ones, so I do hope that if you have to go solo with your pump, you will have a safe and smooth trip following these tips!
Leslie Berry lives with her husband and two young daughters in Los Altos, California, where she loves helping other moms get comfortable with motherhood and embracing the insanity with facts peppered with laughs.
She loves eating too much sushi, exercising, and jamming out on her Fender. Read more about Leslie here.