Swaddling is one important parent trick that helps babies settle down and sleep as they learn how to adjust to the real world. Babies are fussy sometimes, and learning how to swaddle with a muslin blanket reduces your baby's discomfort and overstimulation.
I learned over the years as a parent of four children that there is a right and wrong blanket for swaddling. It all comes down to the fabric of the blanket. Some materials are too heavy for swaddling; some don't work for a baby's delicate skin.
When I had my second child, I found the answer – muslin. This fabric dates back to ancient times in a port town in India. Today, muslin is a soft cotton fabric popular amongst parents. Many parents add a swaddle muslin blanket to their baby registry.
Let's look at why muslin is an excellent choice for a swaddle blanket and how to use a muslin blanket for swaddling.
The Benefits of Using Muslin for Swaddling Blankets
At first, when my friends suggested I try these blankets, I kept wondering what was so great about muslin blankets. Why are they so beneficial? After several years of using them, here is what I learned.
Natural and Breathable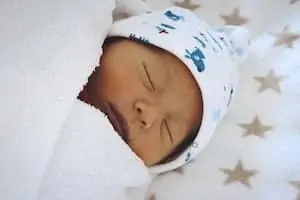 One reason muslin fabric stands out is that it's one of the most breathable fabrics on the market. Other materials trap your baby's heat while prohibiting movement, which might cause your baby to overheat, increasing the risk of SIDS.
Muslin is a great fabric because it's soft, breathable, and perfect for sensitive skin. The difference is that the material is freely woven, allowing heat to escape, and keeping your baby comfortable.
It feels Like The Womb
This fabric's feeling is the closest you can find that mimics the womb. Muslin is gentle and warm, similar to the womb while being flexible and letting your baby move slightly. 
Large Sizes
I have big babies, all over 9 pounds and one over 10lbs, and those small blankets from the hospital are hard to swaddle. Instead, it's much easier to swaddle with a large muslin blanket.
Versatile Uses
I found so many ways to use my muslin blankets. Their breathability makes them a fantastic choice as a simple nursing cover. Toss one side of the blanket over your shoulder for some privacy.
Most are large enough to cover the top of a car seat when carrying it into a store. Lay it on the ground when you're outside as a safe place to lay your baby. You'll find so many ways to use these swaddle blankets.
Relevant: How to swaddle with a receiving blanket?
How to Swaddle with a Muslin Blanket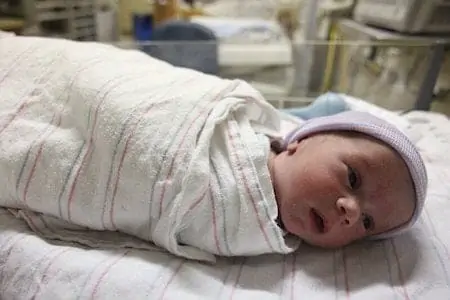 Everyone has their techniques for swaddling; there are several methods you can try. These are the two easiest ways to swaddle with a muslin blanket.
The Diamond Swaddle
This is the classic swaddle the hospital staff may show you before you head home with your baby.
Lay your swaddle blanket on a flat place, typically the floor or your bed, in a diamond shape. Then, fold the top-most corner folded down 4-6 inches, creating a straight edge for your baby's head.
Place your baby on his back in the center of the blanket, ensuring his neck is on the folded edge of the corner.
Take the left corner, pull it over your baby, and tuck it under his body. Don't pull too tightly; leave space for hip movement because pulling their legs straight or forcing hip joints is a cause of hip dysplasia.
Take the bottom corner and bring it up and over your baby's left shoulder.
Finally, grab the right corner and bring it around your baby, tucking it in a little pocket in front of the swaddle once it goes around your baby.
Use a Newborn Muslin Wrap
Are you feeling swaddle illiterate? Swaddling is hard, especially in the middle of the night with an unhappy, hungry newborn with a wet diaper. The answer is using one of the brands of swaddle muslin wraps. These unique swaddle sleep sacks make it easy to keep your baby snug and cozy.
Wear a onesie to put your baby into the swaddle or sleep sack; never overdress your baby in a swaddle sack because it increases the risk of overheating and leads to SIDS.
Zip up the sleep sack.
Wrap and velcro the sides of the sleep sack.
The exact steps vary based on which product you prefer to use. The muslin velcro swaddle wraps are different than some of the only zippered brands. Either way, the idea is the same – a simplified way to keep your baby swaddled without complicated steps in the middle of the night.
Unsure of when to stop swaddling the baby? Here is the answer.
The 4 Best Muslin Blankets for Swaddling
If you use muslin blankets for swaddling, it's good to know that not all brands are the same. The quality of the fabric determines the breathability as well as the softness. High-quality muslin becomes softer as it goes through washing and use. 
Here are some of my favorite muslin swaddles.
The most popular brand of muslin blankets is Aden & Anais. These blankets are 100% cotton muslin known for being high quality and super soft. If you want a large muslin blanket, these are a must-have. They're extra-large, measuring 44" x 44." Plus, there are dozens of print options to consider.
Another popular set of muslin blankets comes from Hudson Baby. These blankets are 100% cotton, measuring 46" x 46". Hudson Baby offers an affordable choice for muslin blankets, and they're known for being soft and gentle on your baby's skin. Each set contains three blankets for a fantastic price.
This is the original wearable blanket that replaces all of the dangerous loose blankets and keeps your baby snug and cozy at night. It comes in several sizes, growing with your baby, and the sleep sack is made of two layers of lightweight cotton muslin.
This style of sleep sack doesn't have any velcro. It's a simple zippered design. SwaddleDesigns made their swaddle out of 100% cotton that is breathable and safe. They added a handy two-way zipper for easy middle-of-the-night diaper changes. Pick the right size for your baby!
Using a Muslin Blanket for Swaddling
If you've ever wondered whether you can use a muslin blanket for swaddling, the answer is yes! These blankets are safe, breathable, and versatile. Make sure to try swaddling with muslin; both babies and parents love it.
Hey, this is Linda. My biggest accomplishment in life is being a mother of four children. Their current ages range from almost ten years old down to 20 months old.
I'm passionate about writing parenting articles because I understand so well all of the problems and trials you face as a parent. From breastfeeding woes to budgeting problems and behavior problems, along with everything in between, chances are I've faced it over the last ten years. Read more about Linda here.