When I first got pregnant with my eldest, the care packages from the states started rolling in. Every single one of them was filled with receiving blankets. I had about 20 of them when all was said and done.
That's a lot of blankets.
But back then, and being located in China at the time, I was extremely grateful for finding things the way they are back home was virtually impossible.
Plus, at the time, try as we might, we couldn't find a swaddling blanket. With all my newborn receiving blankets, I had to learn how to swaddle with a receiving blanket. I practiced on larger stuffed animals we'd gotten to decorate her room with.
And while practice does make perfect, it's a whole different level when you have to swaddle a squirmy baby.
Having a swaddling blanket would have made life much easier. Thankfully, by the time my youngest arrived, someone had sent me a swaddling blanket. I loved this thing, and though I can't remember the brand, I was eternally grateful. However, I'm thankful I learned how to swaddle the old-fashioned way as they did long before swaddle blankets were ever created.
Anyway, I'm writing this post because I often hear people use "receiving blankets" and "swaddle blankets" interchangeably, and I'm here to set the record straight.
Do I need swaddle blankets and receiving blankets?
I'm going to say yes to both. See, receiving blankets can be used for sooooo many things (I'll get into that below). Meanwhile, swaddling blankets make it easier to snuggly wrap up your newborn for a sleepover the next few months to keep that startle reflex from waking her up.
I'd buy a couple of each on my own if I were you. You will likely get some as gifts too, but you have control over the material when you buy your own. For example, muslin receiving blankets are even softer than cotton and might be something you're more into than another option.
What in the world is a receiving blanket?
Receiving blankets tend to be crafted from very thin and soft material. That material is usually cotton, muslin, bamboo, plush, or flannel. They are usually 30″ x 30″ and can be used for more than just wrapping up a baby to keep them warm and cozy.
In fact, here's how I made use of my receiving blankets for both girls, aside from the obvious of bundling them up and swaddling them:
Tummy time – I would lay this on the mat on the floor to have an extra bit of cushioning and coziness during that important tummy time.
Extra breastfeeding covers – I'd stuff them into the diaper bag to serve as an additional covering should my breastfeeding cover get dirty, or for the times I'd forget it was hanging on the line to dry.
Changing mat – I had an antimicrobial changing mat in my diaper bag, but there were times we accidentally left it at home. That's when an extra receiving blanket would come in handy.
Burp cloth – We had designated burp cloths, yes, but when they're all in the wash or you have nothing else nearby, a receiving blanket will protect your clothes from any spit-up situations.
What in the world is a swaddle blanket?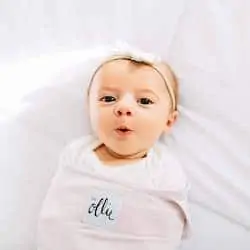 Of course, you can swaddle with a receiving blanket, but a swaddle blanket makes it even easier. These blankets tend to be just a little smaller and have some type of closure method to them. They could be winged or with snaps or Velcro, which you use to secure around your baby so they can't wriggle out of it in the night.
Note that:
Newborn babies sleep wonderfully when they are wrapped in a tight swaddle. Those first 3 months are basically the 4th trimester, where they are getting used to being outside the womb. As the womb is a tight and cozy place for a baby, your baby is super-happy being bundled up in this way.
Differences between swaddle and receiving blankets
While you can use receiving blankets to swaddle your baby, there are differences. And no, it's not some marketing ploy to make you buy ALL the blankets!
Receiving blankets are usually square or rectangular. Meanwhile, swaddle blankets are a little smaller with winged sides that make swaddling easier for you. Swaddle blankets also have some way to fasten your swaddling job, so it's not easy for a baby to undo all your hard work.
Basically, swaddling blankets are made specifically for swaddling but receiving blankets can be used in many different ways.
How many swaddling blankets and receiving blankets do I need?
It's always great to be prepared, even though you will likely get some newborn receiving blankets as a gift. I'd buy 3 or 4 of them just to be sure. As for swaddle blankets, you will likely want 2 or 3 of them, so you're not constantly going nuts with laundry.
Swaddle blankets can't really be used for much else, though, unlike receiving blankets. Once your baby gets past the 4th month, you won't need them anymore. You can give them to expecting friends or try to repurpose them, but more will come out of those newborn receiving blankets.
How do I swaddle my newborn with a receiving blanket?
It takes some practice to swaddle a newborn with a receiving blanket. That's why I used larger stuffed animals as my guinea pigs. Still, my eldest forced me to learn this life skill.
You can watch videos on it to see it in action, but it basically goes like this:
Place the blanket on a flat surface, folding it into a triangle.
Put baby on the blanket with her facing toward you with her head just above the folded part of the triangle.
Straighten out her left arm, then wrap the left side of the blanket over that arm and her chest. Meanwhile, you'll tuck the blanket under her right arm and then underneath her back. If you've done this right, her left arm is covered, and her right arm is free.
Now bring up the bottom by taking that bottom corner and folding it over her body, tucking it under that first fold you made, right under her chin. Straighten out her right arm and pull the right side of the blanket over her body, tucking it securely under her left side.
When done, secure the blanket by twisting the bottom and tucking it underneath her.
Ta da! Do make sure that you're making it fit snug but not too tight. Some babies like having one or both arms free. My eldest kept her arms in, but my youngest was famous for getting her little hands out of there.
How to use receiving blankets after the baby gets too big for them?
When your baby does get too big for the receiving blankets, you can make them into other things if you're crafty enough. We saved ours and used them for our youngest. When she got too big, we gave them away to moms in need.
Receiving blankets purpose done, you can convert them into a quilt that can be passed along for generations to come. You can also make them into pillow covers, stuffed animals, or make it into some kind of framed wall art. Be creative and let the patterns and materials inspire you!
Get your receiving and swaddling blankets!
I want to give you a few suggestions for each type of blanket so you'll have some in your stash. Again, I'm sure at least one person will get you some receiving blankets. You may even get one swaddle blanket. But you should pick some yourself so you can choose the material, pattern, and design you like best.
It's never a bad idea to have more than one. And as you'll soon see with spit-up and diaper blowouts, it's wonderful to have extra blankets of any kind, so you don't have to stay up doing laundry at 2am.
Receiving Blankets
This set of 4 flannel receiving blankets is soft and gentle on the skin. Plus, it's unisex, so if you're not sure what you're having yet or just want to keep a neutral theme so you can use them for another baby down the road, these are a great choice. They measure about 28″ x 28″ so a little smaller but perfect for a newborn.
If you're looking for muslin receiving blankets, here they are! This concoction is 70% bamboo and 30% cotton to let the baby's skin breathe easy. These are very soft to the touch and, with the unisex design, perfect for any baby.
Also, these are extra large at 47″ x 47″, so you will get TONS of use out of them (even swaddling!). Babies grow so fast, so having some larger receiving blankets will work in your favor alway.
Another muslin receiving blanket option, Upsimples has a unique size at 46″ x 45″ that can double for swaddling too. The material is cozy and soft, something that will give you plenty of ways to keep your baby comfortable in any setting. It also gets softer with every wash, making it the perfect blanket!
Swaddling Blankets
Ok, if you do nothing else, at least click this link to see how cute this baby is in the photo. Seriously! So cute! Anyway, if you want your baby to be swaddled to look like a cute and cuddly creature, this is the swaddle blanket for you. It is made with 100% natural faux cashmere and no nasty dyes or chemicals. And the ears! OMG! I love it!
For any baby, this 100% cotton creation is fully organic. There are no phthalates, chemicals, chlorinated crap, flame retardants, or any of that stuff in this thing. There are tons of colors and print options to choose from, and the stretchy material makes swaddling SO much easier.
SwaddleMe makes swaddle blankets in different stages (1 through 3) to help you wrap up your newborn as they grow. Soft cotton that's easy to machine wash keeps the baby safe and secure with every swaddle. I recommend the newborn stage, and if you love it as much as I think you will get the other stages. Some babies want to be swaddled for longer, like my youngest, while my eldest was totally over it by the 4th month.
And there you have it!
Receiving blankets and swaddle blankets for you to choose from. You don't have to go nuts buying them all since you can count on them for gifts. But if I had it to do over again, I'd have bought more of my own. Some of the ones I received, while thoughtful, weren't as cozy as others. Having a say in the material makes a big difference, you know?
Remember, receiving blankets can be used for tons of purposes. When you pick them yourself, you can match them to the nursery too. If you want them overly girly or very boyish, you can pick those patterns. I had friends that chose unisex because they didn't know what they were having and were thrilled to be able to use those same blankets a couple of years later when they had a baby of a different gender.
All in all, though, get a few of each, and you should be all set!
Leslie Berry lives with her husband and two young daughters in Los Altos, California, where she loves helping other moms get comfortable with motherhood and embracing the insanity with facts peppered with laughs.
She loves eating too much sushi, exercising, and jamming out on her Fender. Read more about Leslie here.