At the time I'm writing this, 30 states are now officially under lockdown, mine included. Even though we've been at this for a few weeks already, some of you are newer to this lifestyle, at least officially. Just about everyone I know, whether their state has been locked down or not, has been staying home, and I'm very glad about that.
I wrote a few weeks ago about the coronavirus, and I still maintain the idea of not panicking. Life WILL go on after this. We will all pick up the pieces together and trudge forward in new and exciting ways.
Still, I get it. I miss my favorite wine bar or sneaking off for a Mom's Night. Now those are done on FaceTime.
Running my business mostly from home, I've now been working entirely from home. The kids are learning via distance learning, and my husband is here, grateful to still be employed, working from home. My friends and family are all safe and well, and we have much to be thankful for.
Despite this, though, there are moments where I simply want to tear out my hair. And I imagine, dear mama, that you feel the same too. 🙁
It's not easy for us as adults to cope with this change. But it's even harder for little ones to get it. With my daughters old enough to understand, they still whine about being bored, cry about missing seeing their teachers in the flesh, and wish they could go to the supermarket with me when I run out of supplies and have to venture out.
Here's the deal:
So, I thought I'd share my tips for what's helping me make the most out of this time, keeping me sane and trying to soothe the anxiety of my kids. I hope it helps you too. After all, we're all in the very same boat, and in order to keep it afloat, we've got to be strong and work together.
Without any further ado, here's my big list for you on how to survive staying home during the coronavirus with a house full of kids, a husband working remotely, and managing your workload as well — all without going completely insane (just partially, sometimes!).
Try to create a routine
Step one is trying to make things more bearable with kids is to enact a routine. It doesn't need to be one of those crazy color-coded charts we've all seen on Pinterest. Stop that!
But DO aim to wake everyone at the same time each morning, have breakfast, and then set up connections to online classrooms. Have lunch around the same time, then get fresh air while staying socially distant from anyone else you may see out there. You get what I'm saying here? This is my partial routine, but it works for our temporary way of solitude. Find yours and keep with it to keep your kids from feeling anxious.
Lower your expectations a bit
I mentioned a color-coded activity chart just before. Relax, mama! You do not need to get all hyper-organized here. If you try to make online school as rigid as regular school, you're going to either get resistance or tears.
My eldest loves school, but yesterday she burst into tears. She said she hates not going to school, and she misses it. So, being all in-your-face with the planned activities every day is overload. Let it be, and allow flexibility for those moments you need to give hugs or when your kids just can't take another math problem.
Work in a separate space from your spouse
If possible, when you "go" to work, do so in a different room from your husband. I promise you; you will be much happier this way. Otherwise, you'll have to listen to his conference calls while you're trying to work. Even his typing will send you over the edge. Trust me on this…just work in another room!
Get some treats
I know things are serious, but being confined to your home means your kids are only going to ask for 10 times the snacks. It's like summer vacation or spring break, except you don't get to go anywhere.
You can do as well:
I've been limiting my trips to the supermarket to help do my part. So when I go, I not only grab enough food to last as long as I can stretch it, but I also grab some special items. I look for what's on sale or what's in stock and just wing it. Sometimes it's cookies or cake mix. Other times it's something special from the bakery. Oh, and ice cream is always an essential grocery item.
For good measure, though, I get plenty of fruit. My mandatory is that at least one snack must be fruit each day. After dinner every night, I have a rule that dessert can't be a sweet treat every night, so my kids vote on which fruit they want. It makes it a bit fun even when things clearly aren't. 😀
Make time for the kids beyond setting them up
Once we set up our new routine, I got in the habit of lingering a bit first to make sure my girls didn't have any questions. Then, I let them get on with their school work. Some days that means video meetings and others, it's up to them to simply complete and submit their assignments.
I then get busy with my work but make time to take breaks with them. We might play with dolls for a few minutes, have a quick tea party, or pull out a game, but adding this element of playtime has made the days better for all of us.
Get some fresh air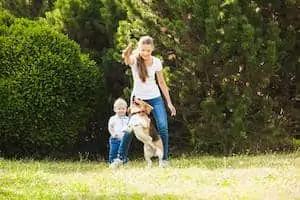 Locked down doesn't mean you're in jail. It just means that you need to do your part to be socially responsible during this time. No, you can't go to the mall or the movies or flit from aisle to aisle in Target with your kids in tow.
But you CAN go out in your yard, if you have one. And if you don't, you are still allowed to get some fresh air outside without coming into contact with others. Check with the officials in your area if you can use a park trail or other green space as it's different in all locations.
It's important to get exercise and get outdoors, especially for kids. My husband and I started taking the kids on walks through our neighborhood. When they whined about that, we took a soccer ball out into our yard and kicked it around. We even had a scavenger hunt on a Saturday.
Think outside the box for all the fun outdoor things you used to do as a kid. Remember that? Before the internet and smartphones? We seem to have forgotten those jolly things, and I think one of the only blessings about this horrible curse upon us all is that we now have the time to show our kids this simple slice of joy.
Make indoors fun
Both my kids have found moments of boredom, despite having rooms full of toys and games, and tablets and laptops. There are dolls, ponies, sharp little toys that I don't see until it's too late…they've got no reason to complain they're bored.
But I get it. I really do. They miss coming with me to the supermarket and would likely kill to be bored on another mission to Bed, Bath and Beyond where my husband and I stand debating for an hour whether or not we need an air fryer.
Not sure how to make things fun indoors? Here's my ultimate list:
Do it together. Get in and have a blast!
Have an indoor scavenger hunt
This is great for when they need something to do, but you have to get work done. Or if it's raining outside and you can't go into your yard. Make up a list of simple things you've got around the house. Afterward, celebrate with that ice cream.
Bake or cook something together
Now is an excellent time to hone math and cooking skills. I showed mine how to make banana bread.
We all miss the salon, girl. Do it yourself, and even better, do it with the kids. I have a friend with one little boy down in Miami, and they painted each other's nails. It's fun for everyone!
Pull out the fancy dresses and use your hallway as a catwalk. My girls and I had a blast, and we even got my husband to model some hats.
Make funny voices for the dolls and other toys and watch them do the same
Every time my girls complain they're bored with their toys, I show them just how much fun those dolls, stuffed animals, and ponies can be. Be as silly as possible is my only requirement. That laughter will make you all feel so good.
There are TONS of craft kits, like this arts and crafts library, kits to make your own soap, which is very timely during the pandemic, even STEM kits for growing crystals!
Teach them how to play cards
I don't know about you, but I have always had an unspoken code in my life. That code is to always have at least one full deck of cards on hand. When I was a little girl, I used to play war, go fish, and kings in the corner with my grandpa. Those were some of my best memories.
So, I taught my girls some games. And then, after, I modified what Grandpa and I always did…instead of going out for milkshakes; I made them at home. It's so simple, yet such an enjoyable way to spend time together.
If you can't remember the rules of your favorite card games, you can find them here.
Trot out the board games and puzzles
And finally, it's time to take all those board games out. Growing up, I remember we had a closet full of them. Everything from Sorry to Candyland to Hungry Hungry Hippos was there.
If you don't have any board games, you'd better stock up. We've been doing family game night for a couple of years now. Depending on the age of your kids, here are some suggestions:
Puzzles can be a family activity too. Cozy up and use your teamwork skills to assemble all the pieces, assuming you haven't lost any. I have one friend in Texas who has done a different puzzle every day with her family. Cathy collects puzzles, though. It's just her thing.
One last thing about staying at home during COVID-19…
I didn't want to forget you. We are all having a tough time coping with it. We all have our good moments and plenty of bad ones too. The uncertainty is stressful. So take care of yourself.
If you feel like you're going to break down, go into another room and let it out. Ask your husband to keep the kids occupied so you can get some downtime to sort out your emotions. Take a nice bath, pour a lot of wine, and go ahead and eat some of those Easter chocolates.
As mamas, we've got to be strong for our kids. We have to put that brave face on and lead the way to adapt for the situation right now. And when we do that, our kids will come out of this stronger and more prepared for the future.
Hang in there. It will get better…believe it. Love to you all!
Leslie Berry lives with her husband and two young daughters in Los Altos, California, where she loves helping other moms get comfortable with motherhood and embracing the insanity with facts peppered with laughs.
She loves eating too much sushi, exercising, and jamming out on her Fender. Read more about Leslie here.