In the weeks and days before your surgery, you need to take the time to mentally and physically prepare for your c-section. Part of that is ensuring that you're eating correctly before your c-section, as well as knowing when to stop eating the day before your surgery.
It's important to remember that all hospitals have different policies regarding when you can consume solid foods and liquids. Before your surgery, your OBGYN or the anesthesiologist overseeing your surgery will discuss the recommended practices for your safety.
However, you want to know ahead of time! From eating the right foods to eating well before your surgery, let's look at what you need to know.
Why Can I Eat or Drink Before a C-Section?
At some point, you'll be told that you need to stop eating before your surgery. This might be 6 to 12 hours beforehand. As a pregnant woman, waiting 12+ hours to eat does feel like torture. It leaves you wondering why this policy exists.
Doctors typically ban food and drink before all surgeries, including but not limited to c-sections. The reason you need to stay clear of food is that it could be aspirated or inhaled into your lungs or trachea during surgery. If you need general anesthesia, you have an increased risk, and while you might not plan to have general anesthesia, we all know that life doesn't always go according to our plans.
Now, before you get too worried, it's essential to know that aspiration is a rare occurrence, so chances are you will be fine. Improvements in anesthesiology have made it much safer, but chances are you'll be asked not to eat. It's a small sacrifice to make.
What to Eat the Day Before Your C-Section
The day before your c-section is a huge day! You'll be filled with a range of emotions, but make sure that you eat the right foods and stop eating at the right time. Here are some simple tips to remember.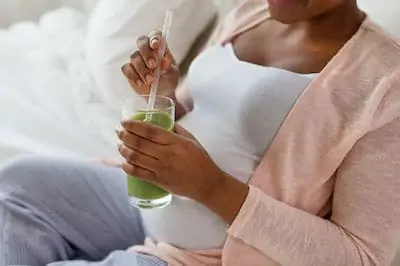 Most hospitals ask that you stop eating solid foods six to eight hours before your surgery. If your surgery is planned for 8 AM, you'll need to stop eating between 12-2 AM. I suggest that you eat something that this point; otherwise, you might be grumpy from hunger when the c-section comes.
Double-check with your doctor, but most are okay with small amounts of clear liquids, such as water, fruit juice, black coffee, and sports drinks, up to two hours before your surgery. Drink that coffee, mama – it's a big day!
A lot of women wonder what the best last meal to eat before a c-section is. Well, I can tell you what NOT to eat – heavy or greasy foods. Now isn't the time to go to McDonald's and load up on a few Big Macs.
Instead, eat lightly in those 12 hours because your intestines will slow down in the coming days. That makes it harder for food to pass through, so you don't want to cause serious constipation issues.
Eat soup, juices, smoothies, fresh fruits, and vegetables. Avoid pizza, tacos, and fatty meat. If you want to have meat, stick to chicken or other lean meats; and stay away from fatty beef or pork.
Relative: Your go-to diet chart after cesarean delivery.
The Weeks Leading Up: The Diet Before a C-Section
Preparation for childbirth starts in the weeks before your surgery. This time is the best for preparing your body for the recovery and road ahead. That means eating a lot of wholesome, healthy foods that will nourish your body and baby.
Your pre-c-section diet does matter. Your body needs to be fully nourished, so what should you eat? Here are some suggestions.
While you need to add more calories, don't take the saying "eating for two" seriously. You typically only need to add between 200-400 calories extra per day. That could be a fulfilling snack before dinner or an extra helping at breakfast.
Okay – eat a few extra brownies. You DO deserve it; don't make it a daily thing.
Focus on eating your food groups. Stick to lean meats rather than fatty meats, and remember to add some seafood for extra omega-3 fatty acids. Just don't go overboard with the seafood.
In your preparation for a c-section diet, you should eat plenty of fruits and vegetables. You can't have too much. Give yourself a goal to eat a fruit or veggie with each meal and snack.
Stick to whole grains, but don't eliminate carbs. Carbohydrates are vital for your body, but you don't want to overeat them.
Final Thoughts
I know I was concerned when my surgery was approaching when I had to stop eating before a c-section. Be sure to talk to your doctor, but the general recommendation is to stop eating 6 to 12 hours before your surgery starts.
Hey, this is Linda. My biggest accomplishment in life is being a mother of four children. Their current ages range from almost ten years old down to 20 months old.
I'm passionate about writing parenting articles because I understand so well all of the problems and trials you face as a parent. From breastfeeding woes to budgeting problems and behavior problems, along with everything in between, chances are I've faced it over the last ten years. Read more about Linda here.