One thing I've learned as a mom is, time waits for no one. We're so busy dealing with poopy diapers, breastfeeding, and catching milestones on camera when they're babies.
Then they're toddlers, and we're busy enriching their lives.
We plan those mommy and me time play dates, set aside hard-earned money to pay for extra activities and classes that the kids want to take, and drag ourselves out of the house even when our feet and minds ache to the point of no return.
We tell ourselves it's because we're moms. It's because we HAVE TO do it.
Says who?
Look, I'm not saying we shouldn't nurture our children's needs. But I look at my husband, who, without a care in the world, starts his day taking a walk before work while I'm harried in the kitchen making breakfast.
I start my day already exhausted, and you know what? I decided to take power back. And you need to do that too.
Side note: my husband works very hard, so I don't begrudge him time to himself. But I think husbands and kids too don't realize that we are mere mortals. Much as we like to imagine ourselves otherwise, we're not indestructible, and we must take time for ourselves.
Rediscovering Yourself After Motherhood: 11 Me Time Ideas for Moms
Before I get into some ideas, I'd like to share with you what another psychologist has to say about the importance of Me Time for moms. Dr. Christina Hibbert cites mental and physical health tolls that come from not taking that time for yourself.
You may see it as selfish to do something just for yourself. But you are still YOU!
Did you stop loving your favorite band or author the moment you became a mom? No! How about those hobbies, interests, and other pursuits? Women are so sadly conditioned to think they don't deserve to be themselves, that they are just shells of the women they once were after starting a family.
I know because I had to work on this myself.
It's the way society is set up. Yet, in the olden days, husbands worked outside of the home while women attended to household matters. Likely, that was because they lacked the modern conveniences we have readily available today.
My grandma needed HOURS to get meals ready. We have an Instant Pot. I think you get the idea.
Even with these conveniences, we're still feeling guilty about taking that Me Time. I'm here to tell you…TAKE IT. Seize the day!
Perhaps you don't have all day to enjoy yourself, and that's OK. It's about making more time to replenish yourself. My list below will give you some wonderfully rewarding ways to make Me Time more of a regular thing in your life rather than some fleeting idea.
1. Sip and savor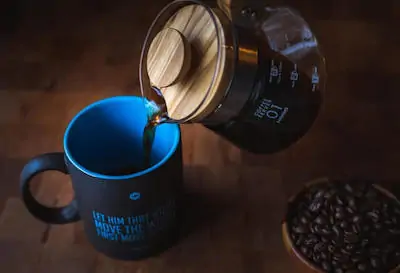 One of my favorite things to do each day is simply sitting, sipping, and savoring my coffee in the morning. The kids are busy with school, and before I begin what I need to do, I take my first cup of coffee and sit outside on our patio, relishing the day. It feels so good to have that peace and sets the mood for my day.
2. Pamper yourself
Spa days are one of the best ways to get Me Time. Not everyone can afford to treat themselves, though, or can spare the time to get away like that. But you can absolutely treat yourself at home. There are so many spa products that bring the experience to you. Make sure your husband is home to deal with the kids, and you will be able to envelop yourself in bliss.
3. Pick out a new book (and read it!)
When my girls were little, I felt like I never had the energy to read beyond Dr. Seuss and all those other kiddie books. But somewhere along the way, they got bigger, and now, they read their own chapter books. This gives me time to pick out the books I want to read. It is Me Time before bed every night as I end the day on a high note, reading something that whisks me away.
4. Turn back time with a classic
At our age, it's getting scary looking back and seeing how many years out of school we are, right? Yikes. One of my favorite things to do to take time to myself is put on a movie that meant something to me in my past. Stuff from the 80s and 90s always brightens my day and makes me feel young again. That's enough to fill up my cup and keep me moving forward.
5. Massage it away
Some people are still a little worried about getting massages now or feel like it's an expense they can't manage. Maybe a massage tool will help you feel better any time you are tense. We have a massage chair that fits easily atop any chair. I love putting that thing in our armchair and watching TV while this thing helps get rid of all the tension in my neck and back.
Sore feet? Use a foot massager. Heck, I have both, and I love using them simultaneously. It's a great way to get a massage whenever you want one.
6. Get out with the girls
Perhaps my favorite way to get Me Time is meeting up with my gal pals. Look, we all love our husbands and children, but spending time with people who still look at you as you rather than as "wife" or "Mom" help you remember who you are. It's nice to laugh and break away from those daily stresses.
Side bonus: You're helping your mom's friends too, so it's a win-win.
7. Go somewhere by yourself and relish the moment
I used to joke that going to the supermarket by myself was my Me Time. And surely, I still enjoy shopping by myself without the constant barrage of, "Mom! Can we get these cookies? How about these chips?" Or, "Ick! I don't want tofu for dinner tonight!"
But that's hardly the place for Me Time. Places where you're running errands, don't count for this. I like to go to the library and take my time selecting books. I like to sit by the lake at the park and watch the birds come and go. I like to stop by a cozy café, grab a tucked-away table, and truly sip and savor my caffeinated beverage.
See the difference?
Take yourself for a date yourself, somewhere simple or even extravagant if you've got the money for it. Long before I had my kids, I was in Japan solo traveling, and I treated myself to a very pricey sushi dinner. I sat at the sushi bar and let the sushi chef surprise me. Maybe I didn't need Me Time as much as I do now, but it still ranks as one of the best moments I took for myself of all time.
8. Get back into an old favorite hobby
My friend Erin used to blow glass beads before she had her kids. When she became a mom, she stopped. She always talked about how much she missed doing it. Once the kids got bigger and went to school, she took a day and just started up her old hobby again.
Maybe you don't blow glass…maybe you sew, crochet, bake, make scrapbooks, or one of the endless hobbies that are out there. Or at least you did before you became a wife and mother. Get back into it ASAP!
9. Or try something new
On one of our girls' nights, my friend Roxy said she would start making pottery once her little one went off to preschool. She said she'd tried it once, and it was really soothing, but that was years and years ago. We all told her to go for it. Guess what? She did, and she loves it.
It inspired us to pick up something new. I know I've mentioned here I love playing my guitar (and I've been picking it up more often to play), but the thing I've always wanted to try was the harp. Yes, really! So I signed up for classes, and it is so amazing!
Whatever it is – it doesn't have to be music or art-related – try that new thing that you've always wanted to do. I have a friend that was in love with Ethiopian cuisine from the moment she first tasted it but thought it would be too complicated to make at home. One day, she decided to take a class on it. She loved it and went back for more. Now she makes the most incredible Ethiopian meals.
You may find it's not for you, or you may really love it, but either way, you will feel fantastic beyond anything else!
10. Give yourself a treat
This is pretty broad, but hey, it works! I love this idea for Me Time for moms because you can do it with any budget. For example…one of my favorite ways to treat myself to Me Time is to go to Target, stop at Starbucks, get a coffee, and then browse. I will not do this on a day that I have errands to run there. I will simply make the trip all about me.
Sometimes, I buy a new outfit. Other times, I just buy a new lipstick or eyeshadow palette. Afterward, I feel refreshed because I did something for myself.
It doesn't have to be Target, though I do advise not making food your treat. At least not every time. That could translate to lots of excess calories that will only make you feel less good about yourself.
11. Down by the water
If you live near the water, GO! Head to the lake or the beach for the day. Rent a boat or hop on a charter. Even the ferry that goes from one end to the other! It's so relaxing to be by the water and cleanse your spirit.
And if all that fails, go for a swim. That's my favorite thing to do to rejuvenate my spirit. I love to swim with my kids, of course, but the best time to swim is when I'm alone. I do my laps, and then I just float and let all my cares melt away. Don't have a pool? Look for a local YMCA or gym where you can have access year-round to a swim to enjoy for Me Time.
The Point of Me Time
The suggestions above are meant to help you really think about what would make you feel like yourself again if you took time for yourself. You make time for everyone else, so why shouldn't you get time for yourself?
The hardest part of Me Time is speaking up and claiming it. Tell your husband you have to get your hair and nails done. Tell him you want to play the guitar again as you did before (or that you want to learn how for the first time). And even if he doesn't notice, it doesn't matter. Because you will!
You will feel free and happy, and you'll be a better mom and wife for it. When we satisfy our own needs, it is much easier to be there for those that count on us. Be sure to count on yourself first!
Leslie Berry lives with her husband and two young daughters in Los Altos, California, where she loves helping other moms get comfortable with motherhood and embracing the insanity with facts peppered with laughs.
She loves eating too much sushi, exercising, and jamming out on her Fender. Read more about Leslie here.