Everyone is loving all the info I've been posting about tummy time activities, so I thought I'd continue on this thread.
I want to say something that might not be popular.
I didn't like having to do tummy time with my eldest. That's because I felt a bit bored. I wondered how long I'd have to do this. I probably sound so selfish, but the thing that concerned me most beyond my boredom was that perhaps my daughter was bored as well.
Babies have very short attention spans. Yes, shorter than our husbands! Add to it the discomfort tummy time can bring, and it's little wonder that little ones tend to despise it.
But then I started using tummy time activities, and she loved it. By the time I had my youngest, I knew more tummy time games and tummy time exercises that made it fun for all of us.
Even my eldest wanted to help her little sister with tummy time activities.
So, now I'm going to share my tummy time ideas that will help make this experience less stressful for you and your little angel. That includes some great products listed below, plus tummy time activities for infants you can do with or without those items.
How do I entertain my baby during tummy time?
The answer lies in finding the right tummy time toys for the baby. These are great for getting your baby to lift her head, give her something new to look at, or experience different textures. Some of them can be used for other activities beyond tummy time exercises too!
Tummy time mirror
We were given a tummy time floor mirror as a gift from a friend a few months into doing tummy time with our eldest. I can't find the one we had (it seems it is no longer being made), but it is a great option here. I think I even linked it in another post.
Anyway, the mirror props up on the floor and encourages your baby to lift her little head. When your baby sees herself in the mirror and has that, "OMG! Look! another baby is looking at me! MOM! Look! Another baby!" face going on, it's priceless.
Tummy time activity gym
I think our favorite tummy time activity was a gym mat similar to this one. Ours was also Fisher-Price, but we had the piano as a separate item, something we put in the crib (during supervised, wakeful moments) to keep our eldest busy. It has toys that will entice when you put the baby on her back.
And those toys can be taken down to let the baby play with them. The piano is fun too. And the soft texture of the mat plus the fun print make tummy time anything but dull when on a mat like this. You'll use it long after tummy time too!
Crinkling activity book
Don't have a budget for a fancy mat? You can put the baby down on a clean, carpeted, or padded surface along with a crinkle activity book. The pages make fun crinkling sounds like paper, but your baby won't be able to destroy it. This one has a mirror on one of the pages as well, so you'll have even more ways to keep the baby entertained during tummy time.
Nursing pillows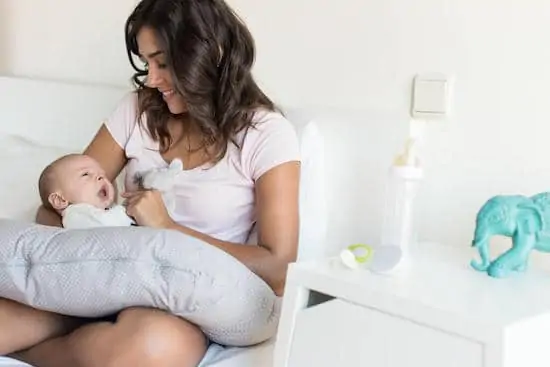 Not sure what to choose for tummy time activities? In those early days, you can let your nursing pillow help double as a great support pillow. Never leave your baby unattended in tummy time, especially with a pillow, but this is a great way to help them build strength when supervised. The Boppy is even more versatile than you thought!
Tummy time water mat
Is it wrong that I kind of want one of these for myself? Mats that you can fill with water are even more exciting. Babies become obsessed with squishing feelings and movement. This one has underwater creatures that move around, and it's super cool. I don't even have any tummy time-aged children, and I really want it!
What activities count as tummy time?
In my recent post about baby hating tummy time, I listed some activities that can work for tummy time besides putting baby down on the floor. You can use your lap and carry your baby in a carrier to help them develop those important muscles for locomotion.
If you are awaiting the arrival of any tummy time toys you've ordered, you can always use an exercise ball if you have one. Tummy time on an exercise ball is an excellent idea if you don't have any soft flooring or mats to work with. And of course, you can use it for yourself, so it's quite versatile.
When doing tummy time on an exercise ball, you need to have a good grip on your baby as you put her on her tummy on the ball. Angling the ball at a greater incline makes it easier for your baby, just like when you're holding her in your arms. This is ideal when you first start.
Then you can make it more challenging by moving the ball, so she's flatter on her belly. In position, you can roll the ball forward and backward very slowly while still holding her. And as she gets used to it, you can sit so you're facing her and make silly faces to engage her in this activity.
If you've got any questions regarding tummy time, check out this FAQ section.
How to make the tummy time fun
Now, let's talk about tummy time activities for infants that you can do at various stages. This will surely be more fun than placing them on their belly and hoping for the best!
This tummy time idea is best to do when your baby is a newborn (after that umbilical cord stump has fallen off) to about 6 weeks of age. Simply place your baby on your chest/belly while she's on her belly. She will try to lift her head to look at you. You can sing, make funny faces, or simply talk to her and this will be deemed fascinating in her eyes. And for you, you get to see that precious face looking at you!
Another one you can do from birth to about 6 weeks of age is the airplane. Simply hold your baby, so she's lying on her tummy across your arms. Now, take her for a walk around your home, or take her out in the yard. Make airplane noises if you like, or just narrate everything you see. She'll love it!
Patterns, especially in black and white, are captivating to babies. That's because in those first weeks from newborn to about 6 weeks, they can only detect the differences between black and white or light and dark. Finding black and white picture books (like that crinkle one I linked above) is a great way to add a visual for your child. It should be about 8 to 12 inches from her face so she can focus on it best.
At 6 to 12 weeks, your baby will find new fabrics amazing. The texture and feel of something like a silk scarf may seem simple, but to your baby, it will distract her from being on her tummy.
Take a baby-safe toy (perhaps one from the activity gym mat) and shake it in front of your baby's face. This is fun for the 6-week to 12-week age group. Noisy and colorful is a great idea because your baby will be so distracted, she won't want to complain about tummy time. Move it slowly from side to side and watch how she watches it, tracking with her eyes.
This can be done as she gets bigger too. She'll eventually start grabbing for it.
It seems funny that babies get tired from doing tummy time. But it IS a workout! They're building those muscles up. You can help by using that nursing pillow or even a rolled-up towel or blanket and putting it under her chest and armpits. It takes the strain off so she can lift her head more easily.
Tummy Time for Bigger Babies
You've got to keep up tummy time even when your baby is 3 to 4 months old and beyond 4 months too. How do you keep it fresh and exciting? Here are my tummy time ideas for babies 3 and 4 months old.
Remember that water mat I linked above? Yes, that will be perfect for tummy time for 3 and 4 month old babies.
I meant to link this one above, but this Vtech activity cube is a blast for babies. They can turn the cube, or you can help them, and they have so many things to push and touch. It's great to keep them busy, learning, and building those muscles all at once!
Board books combat boredom for babies too. Choose colorful ones with fun pictures. Unlike in the earlier months, your baby can now see all those vibrant colors. And board books are best because they hold up to even the most destructive babies. Trust me, do not give your baby a book made of paper. She will kill it. We once gave our eldest a map in Beijing, and we couldn't stop laughing at how she ripped it into shreds!
Toys are great, but you can also make your own sensory tray for your baby. Choose things like a clean never-used sponge, wooden spoons, teething necklaces, and anything safe for the baby. This will surely captivate your 4-month-old baby!
You can put that abundance of rubber duckies from the bath to use too. Set up a shallow tray of water in front of your baby (do not leave her unsupervised!) and put the ducks in. When you've got those rubber padding things down, I recommend this set-up, so it doesn't make a soggy mess everywhere.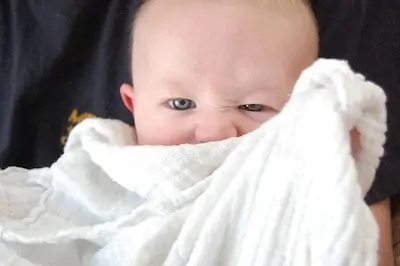 And of course, Peekaboo is one of the best games to play with a baby that is around 4 months old. They love trying to find you. You can also hide a toy behind you and whip it out to encourage your baby to look for it.
We live in exciting times with all sorts of toys for tummy time. But even if you don't have them, you can make your fun ways to keeping tummy time entertaining for your child.
One thing I learned is that tummy time shouldn't feel like a chore to you. It should feel fun. If you're not having fun, your baby isn't either. So think about what makes it fun for you, and very likely, your baby will agree on your idea of a good time.
As always, though, keep tummy time safe by always supervising the activity. Do not use any dangerous items to attract your baby's attention. When you follow these simple points, you'll soon emerge into the crawling and walking phases, and you'll miss these tummy time days!
Leslie Berry lives with her husband and two young daughters in Los Altos, California, where she loves helping other moms get comfortable with motherhood and embracing the insanity with facts peppered with laughs.
She loves eating too much sushi, exercising, and jamming out on her Fender. Read more about Leslie here.