Does your husband ever take a day to go fishing with the guys? It doesn't have to be fishing per se, but I bet your husband has no problem doing something on his own.
But what about you? When did you stop doing that for yourself? When did you stop thinking you needed your own life just because you're a mom now?
That needs to change. We're all guilty of it. We are like Atlas with the world on our shoulders. But if we expect to carry all that around all the time, we need to refresh and recharge because that world on our shoulders is heavy.
You need a day off.
You need more than the slivers of moments you steal to yourself like a thief in the night.
And more importantly, you deserve it.
Make arrangements for a day to do something for yourself. If your spouse is at work, have Grandma and Grandpa get the kids if they're nearby. Hire a sitter or ask a friend or relative to step in. Someone else can watch the kids for a day so you can renew your spirit.
They wouldn't tell you not to get a checkup for your health, would they? Of course not! Your mental health is important for your wellness. Taking a mommy day off is essential for being your best self.
Don't let money be an issue here, either. I know things aren't pretty out there now, but you can make a mommy day off even on a low budget. You can even kick everyone else out for the day so you can have the house to yourself, though you have to promise not to clean anything. Ok?
I'd prefer you go somewhere and change your scenery, though. It will make you feel more renewed.
What should a mom do on a day off?
Do you know there's a holiday called National Lazy Mom's Day? Well, now you know! And you don't need to wait for that holiday or for Mother's Day to have a mommy day off. You need to do it before you reach a breaking point, so schedule with family and friends and go forth and replenish yourself. Here's how!
Go for some pampering
Ok, I know this is on every list. But hear me out. Think of how magnificent you feel when your fingernails and toenails are all polished and pretty. Think of how confident and in charge you feel when you get your hair done. Please think of how relaxing it is to have a masseuse knead the stress and cares away from the muscles they've embedded themselves into in your body.
I know it's not an original suggestion, but I have to say, getting some pampering is one of the best ways to enjoy your mom's day off. You will be treated like royalty and love every second of it.
Browse and shop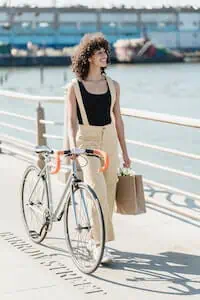 For me, the mall is still my comfort zone. It doesn't matter that half the malls are dead out there. I love the food court and the chance to roam around in a climate-controlled environment looking at things. Bonus if there's a bookstore or music store.
If you're like me, you may find comfort in shopping too or at least browsing. Go with a friend or two and pretend you're back in high school. You don't have to spend much to be entertained and simply sifting through exciting things.
Plan a friend day
It doesn't have to be a trip to the latest shopping plaza (or even the most archaic). But another great way to spend your mom's day off is with a treasured friend. No kids or partners allowed. It will be great to catch up and have fun together doing something you both like.
Try that new café for lunch together. Pack a picnic and take it to the park, lake, or beach. Rent a canoe, go for a bike ride, go bowling with cocktails…honey, the world is your oyster!
See a movie
This was a dream of mine until recently. I had remarked to my husband that I hadn't seen a movie in the theater since the children were little. I'd taken them to their first movie for a kid-friendly $1 showing. Unfortunately, my youngest was not happy about it after 30 minutes.
Needless to say, going to the movies with my kids wasn't fun or immersive. And I hadn't been since. He had gone with friends not long ago, and it dawned on him that I didn't get to have this experience. So, he told me to find a movie I wanted to see, handed me extra money for some popcorn and a drink, and off I went. Please do this for yourself!
Check out a museum or exhibit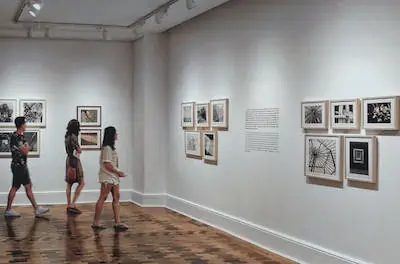 Something I love and hate doing with my kids is going to a museum, gallery, or exhibit. I love it because we have fun, mostly. But because I'm a mom, I'm not too fond of it because I always have to keep an eye on them, so I'm not fully enjoying my visit. It's a game-changer when you get to go to a place like this alone.
Sign up for a class
If you check your local area, I bet you can find an interesting class to take. It could be fitness; it could be art; it could be a book club. Whatever it is, the only thing that matters is that it interests you. Have you always wanted to play guitar? Write? Paint? Dance? Play football? As the tagline says, just do it!
I mean it when I say you need to take a mommy day off. It will make you a better mom when you feel like you've had the chance to be just yourself, the person you've always been before you took on the role of mom. Please do it for them and for you.
Leslie Berry lives with her husband and two young daughters in Los Altos, California, where she loves helping other moms get comfortable with motherhood and embracing the insanity with facts peppered with laughs.
She loves eating too much sushi, exercising, and jamming out on her Fender. Read more about Leslie here.