When I was a newly-minted mama, I remember everyone asking me what I wanted. From my husband to my parents and even well-meaning friends back home. The only thing I could come up with was sleep. Oh, and Little Debbie snacks (they don't have them in China).
And then we moved back to the states and could get whatever I wanted. The problem was, I didn't want anything. But I'm not even hard to buy for. It's my mom, that is!
For every birthday and holiday, I'm stuck. When I know she's out running errands, I'll call my dad and ask him for ideas. He will always tell me the same thing (he's difficult to shop for too). "Oh sweetie, we don't need anything at all, but thank you so much for offering."
I can't just get you thin air. That's lame.
But I also want to show my appreciation for something that will be used. 🙂
I've given my mom picture frames, lotions, bath bombs, fragrances, kitchen gadgets…you name it. And she either has it or doesn't need it.
Do you feel me on this? I bet you do. So that's why this post is devoted to unique gifts for moms who have everything!
What Do Moms Want for Their Birthday?
Be it her birthday or a holiday such as Christmas, Hanukkah, Mother's Day, or any other, shopping for moms is tough stuff. But these tips can help you decide where to go from here.
Consider her likes and habits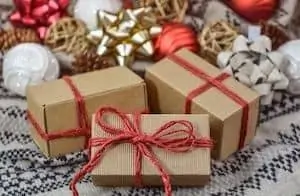 How does your mom start her day? Is it always with coffee from the same mug she's had since you were little? Does she paint, read, write, or have some other hobby? Is there a specific type of place, perhaps the beach or mountains, that makes her feel at home?
Asking yourself these questions about your mom will help you clue into something that makes her feel special, even when giving a gift for the older mom who has everything.
Don't limit yourself to tangible gifts
Giving a gift she can see and touch isn't the only way to surprise your mom. Thoughtful birthday gifts for mom can include experiences too. In fact, experiences are one of the most amazing ways to give gifts for moms who are hard to buy for. Even if she's had that experience before in her life, it might have been ages ago, and this could be a welcome surprise.
What to Get for the Mom Who Has It All?
So, let's start digging in. Keep this list handy every time a gift-giving occasion arises so you can find gifts for the mom who wants nothing, or so she says.
Treat her to a mani/pedi
One year for Mother's Day, I was unable to visit my mom. So, I hacked into Dad and asked him for the name of the salon she goes to. I called them up and arranged for her upcoming appointment that she'd already booked to be paid for by me. My mom got there and was completely taken by surprise. She called me immediately in tears to tell me how thoughtful that was.
Give her music lessons
I got this idea from my cousin Becky whose mom was always that cool mom. You know the one. Oh, she always looked the other way when we were getting into trouble! She was big into rock music and loved guitars. As long as I've known her, she's always said she wished she could play.
So, Becky signed her up for guitar lessons. My Aunt Cindy is really getting good at playing guitar, and it has brought her so much joy.
Or any lessons
If mom isn't into music, thoughtful birthday gifts for mom could include painting lessons, dancing lessons, photography lessons, or even rock-climbing lessons. The key is to find something she's interested in or has always wanted to try.
Jewelry
Ok, so every mom I know (including myself and my own mom) has lots of jewelry. But we can ALWAYS do with more. My dad gave my mom a gorgeous pearl ring for Christmas this year, and believe me, she has enough rings to cover all 10 of her fingers from knuckle to tip and still have rings left over.
However, the jewelry you want to give your mom is the kind of unique gift for moms who have everything. Like this engraved bangle with a sweet message about moms, perfect if you don't live nearby.
A special journal
Perhaps the mom you need to shop for is your sister or a friend who's just had a baby. In that case, this beautiful 5-year journal asks questions that prompt them to fill it in, leaving years of memories recorded. It makes a wonderful keepsake, and it's really a simple, thoughtful, and lovely gift.
A laugh (and a mug)
Personally, I informed my entire family not to get me another mug. I have a cabinet full of mugs, and I think that's plenty. Still, if someone gave me this mug about not having ugly children, I'd love it and drink from it daily.
This mug is perfect for moms that love their coffee or tea and love to laugh. And also for those that have beautiful children, of course!
Spa day anywhere
Want an excellent gift for the older mom who has everything? Steal my idea. When I was visiting one year, I arranged for a spa day for Mom and me. We had massages and mud baths and a fantastic lunch together. It was so much fun, but what made it even better was seeing how happy she was.
All that gabbing and relaxing, it was nice to make another memory with her, something she really wanted. And who could say no to the spa?
But if budgets and miles keep you constrained, you can always send your mom (or any other mom you know) this luxury spa gift set. It would be perfect for any occasion!
Theater tickets for two
I snagged this idea from my dad after his subscription ran out. It was actually for both of them for Christmas, but you can do this for your mom as one of those thoughtful birthday gifts for mom.
I reserved tickets for a season of plays at their local theatre. You don't have to do a whole season or even plays. Think symphonies, concerts, and other performances too. If there's a local theatre near your mom and she loves the arts, even just reserving tickets for one special show is an amazing gift that is full of thought and love.
Monthly subscription boxes
You can also treat your mom to monthly subscription boxes. I love this idea because there are TONS of them out there that make it easy to find something for every mom. You can arrange for just one, have them sent every other month, or have them sent for a whole year, so the budget is very flexible.
Some monthly subscription box ideas for each mom:
Teach her something
Moms are always teaching us, aren't they? And as moms ourselves, we know we learn from our own kids. My youngest teaches me to love, while my eldest is always teaching me something scientific as she learns new things.
You can consider this:
If Mom has always wanted to learn something new, why not give that to her? Perhaps she's always wanted to learn how to cook French cuisine, roll her own sushi, or some other intricate cuisine.
Cooking classes are an excellent idea, but that's not all. Maybe she's always wanted to learn a new language like French, Mandarin, or Italian. Sign her up for classes in person or online, and she'll love it!
Subscribe her to her favorite magazines
My mom loves cooking and baking, so I got her a subscription to Southern Living. Whatever your mom is into, you'll find magazine subscriptions that you can have delivered right to her door. It's a great gift if your mom loves arranging magazines on the coffee table.
There are digital versions, too, if Mom is eco-conscious. Some suggestions:
Gift cards
Ok, so gift cards aren't all that original of an idea. But they're great gifts for moms who are hard to buy for. Perhaps she's mentioned she wants to buy some new clothes…you could get her a gift card to her favorite store so she can choose something she likes.
One of my favorite things to do with gift cards is to get one to her favorite restaurants. This way, if I'm not in town, she can treat herself to lunch just herself, with a friend, or with Dad.
Of course, you can always get her this Amazon gift card and let her order whatever she wants!
Photoshoot fun
One of the best ways to make Mom feel special and unique is to have a photoshoot. You can find a local photographer that can help you capture beautiful photos of the whole family together or let Mom enjoy her moment of glamour on her own.
Helpful services
I got this idea from my friend, Lindsay. She has 3 boys (triplets!), age 5. Naturally, it takes a lot of energy to keep up with them. She's a good sport, but she tripped and tore a ligament in her foot one day while playing a game in their yard. She had to stay off of it, and so her siblings sent her some very thoughtful mom gifts.
One of them arranged for a cleaning service to come twice a week until she recovered. The other didn't have much to spend, so he offered to babysit his nephews once a week so she could have a break. Very thoughtful indeed!
Plan a date with Mom
This year for Christmas, my mom swore up and down she didn't want anything. I kept pressing and pressing, and then she said what she'd love most is for me to take her out to dinner, just the two of us. I wound up wrapping 2 different boxes (one for her and one for my dad) with a piece of paper in it.
On the paper, it said that I would treat each of them (on separate occasions) to dinner at a place of their choosing whenever they came to town next. She was so excited, and since she'll be in the area in just over a month, we've got a date set for just us to have a nice dinner on me.
Final thoughts on gifts for moms who want nothing
When it comes to gift-giving, being thoughtful is what matters the most. Sometimes something your mom mentions in passing makes a great gift that will surprise and delight her. Other times it's something she needs that she won't ask for, like a break. Tap into that with your mom and you're sure to find that perfect gift for any and every occasion!
Leslie Berry lives with her husband and two young daughters in Los Altos, California, where she loves helping other moms get comfortable with motherhood and embracing the insanity with facts peppered with laughs.
She loves eating too much sushi, exercising, and jamming out on her Fender. Read more about Leslie here.