You know what it's like to pack for a vacation, right? You layout maybe 50 different outfits for a 4-day stay. And the accessories. And then you wind up with your whole wardrobe shoved into a 10-piece luggage set and call it a day.
But you can't do that when you go in to deliver your baby.
Especially via c-section. A hospital bag for a planned c-section should not be filled with everything but the kitchen sink. Your scheduled c-section hospital bag should only contain the essentials.
The hospital will provide you with some of what you need, so you need to realistically focus on what they don't provide and what you really need. No, you do NOT need your jewelry. Or a DVD player. Just calm down!
Like any hospital bag, you need to have the following:
Any important paperwork
Your ID
Your insurance card/info
Clothing (for you and the baby)
Only essential hygiene items (for you and your spouse/partner)
I'll get to this in a little more detail below. But first, let me tell you what most hospitals provide.
What the hospital will have for you
Now, as a rule of thumb, the hospital will typically provide you with all the medications you need. This includes pain medications and even those medicated pads. If you're on any other medicine, you must speak to the hospital about it and have it cleared.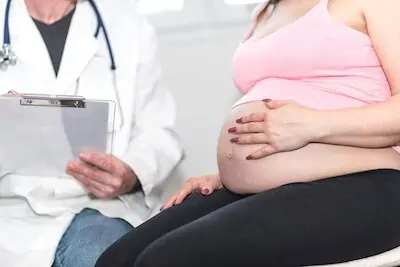 The hospital also provides sanitary pads. Though they are not the best, they are long, so if you have a brand you find most comfortable, you will want to pack it.
The hospital will also give you ice packs, a gown, non-skid socks, towels, toilet paper, water (and a bottle to drink), and mom underwear. Some say to bring Depends, but since you get something like it from the hospital, you can save your money to spend on something else you'll need later.
There's no need to bring too much for your baby either when packing your hospital bag for a planned c-section. They give you diapers, wipes, baby toiletries (shampoo, comb, and brush), pacifiers, bottles with nipples, onesies, and formula.
They also give you a belly band which won't last quite long but keeps your good one at home for when you get out of the hospital.
They didn't provide many of these things in China, so it was a huge pain. Like towels! My husband had to have his parents bring them for us. They did have some things, though, so that was good.
But if you're worried about what to put in your scheduled c-section hospital bag, I recommend you contact the hospital. You can take a tour and look at the rooms.
You can also find out what they do and don't provide, as there may be slight differences between hospitals that can vary even in the same state. By doing so, you'll be able to see what is necessary because it's not provided and what is provided, so you don't waste precious space in that bag.
Another thing to check with the hospital – see if you need to bring or even wear a mask and find out if sanitizer is provided.
What are the c-section hospital bags must haves?
Now, you're probably wondering what to put in your hospital bag for your planned c-section. Let's start with toiletries…
Toiletries to put in your hospital bag for c-section
You will want to bring the things you'd use for your basic hygiene, including soap or body wash, shampoo/conditioner, antiperspirant, glasses or contacts (if you use either of these), comb, and brush, hair ties, and dental hygiene items. Please know most hospitals will have a toothbrush and toothpaste for you, but if you are particular about yours, they take up hardly any space, so bring them.
Makeup is something you can bring, but please do not go in for your c-section with a full face of makeup. They advise against it during surgical procedures, but that is fine if you want to bring it for when you leave the hospital or get photos later.
Lip balm is something I strongly encourage. Trust me; your lips will thank you!
Clothing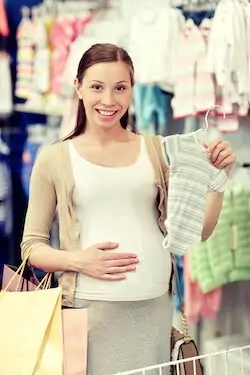 You will get a hospital gown; I feel you there if you want something of your own. Bring loose pajamas (something cheap you don't care about), a robe, shower shoes, slippers for the hospital room, nursing bras, nursing tops, and something to wear home.
As mentioned, the hospital will give you mom undies, though you can pack a pair of your own underwear for the day you leave.
Stuff for baby
In American hospitals, there really is very little you need to bring in that c-section hospital bag for your baby. Yes, you've probably got some cute outfits, but save those for when you're home.
Here's a list of what to pack for the baby:
Baby blanket (swaddle blankets will save you)
Clothes for baby – they will give you a onesie, but you can pack a couple plus a going-home outfit
Car seat (make sure that is installed correctly before you even get to the hospital)
Nursing stuff
The hospital will likely have most of what you need for nursing. Even in China, I had engorged boobs, which came with a breast pump. You don't even need nursing pads at this point, but if you want to throw a pair in your bag, that's fine.
Nipple ointment may be the most essential item you can bring. Some mamas get their nursing pillows, but you can make do with the hospital pillows until you go home. It's one less thing to lug.
One last thing about those c-section hospital bags…
I know it's tempting to bring everything because "what if I need it?!?" But honestly, you don't need ALL that stuff. You're only in the hospital for a few days with a c-section, and then you go home.
If you do forget something important, don't sweat it. Your spouse or a family member can bring it. Just stick to these essentials, and you will have everything you need to get through your hospital stay after your c-section.
Leslie Berry lives with her husband and two young daughters in Los Altos, California, where she loves helping other moms get comfortable with motherhood and embracing the insanity with facts peppered with laughs.
She loves eating too much sushi, exercising, and jamming out on her Fender. Read more about Leslie here.