You're probably just around the corner from delivering your baby into the world. Whether it's your first one or this is your second or third rodeo, you no doubt want to look your best when you leave the hospital.
See, this I know because an outfit for leaving the hospital after birth is crucial. Your postpartum hospital outfit is the chance to clean yourself up into a presentable state after having everyone look at your private parts, after being tethered to a catheter (for c-section mamas), and that general yucky feeling of having been in the hospital.
Yes, the coming home from hospital outfit for mom needs careful consideration. That's why I have created this post for you with tips that will help you dress for the occasion, no matter your style.
What should moms wear coming home from hospital?
When choosing the best going-home outfit for mom after birth, it is essential that you wear something comfortable and functional. That means you should skip anything restrictive like a python or you found uncomfortable before birth. Because it will be even worse now, I promise you this.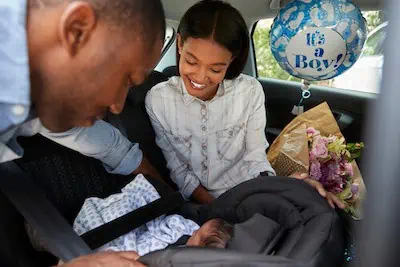 You're going to be sore. You're going to feel funky. And you're trying to adjust to this whole new routine.
Give yourself a break!
That said, there's no reason why comfortable and functional cannot also be fashionable.
Can I wear jeans after giving birth?
Oh Mama, I don't mean to laugh, but no. No jeans, not unless they are maternity jeans. It will be a while before you get into your pre-pregnancy clothes. Don't be disheartened. It took me a while too.
After my c-section with my eldest, I wore my favorite pair of maternity jeans and a cute top. We were in Northern China at the time, and it was still chilly at that point of the year. I also had my favorite black jacket thrown on top and soft boots my feet could slide right into.
For my maternity going home outfit with my youngest, it was summer. I brought my favorite maternity dress, a sleeveless red cotton number. It was so cute! I had sandals that slid right onto my feet. With the help of my makeup stash, I felt pretty enough for photos.
In any event, there are plentiful possibilities to consider. Keep reading, and you'll see some suggestions that can incorporate into your style.
Why Do I Need a Postpartum Hospital Outfit?
As I mentioned, you will feel gross and be so thrilled to leave the hospital. That said, you will want to erase the memory of being in the hospital by pulling yourself together and feeling like that hot mama you know you are.
Also, you're going to want to take loads of photos. Because you're bringing your baby home for the first time. This is EPIC! This is one of those milestone moments that you want to remember. You're going to want to frame it.
And you only want to be in the photos if your clothes do you justice. But remember, cute outfits do not need to be uncomfortable. Please do not torture yourself for the sake of these photos.
Think About Sizing
Here is something else I want to caution you before diving into your closet for that dress you loved before getting pregnant…sizes. It is extremely rare for any woman to give birth and be instantly back to the size she was before she got pregnant.
Do not compare yourself to others! You are beautiful and will be squeezing a person out of your body (or having it cut out of you), which is exhausting.
Your body also took time to get to this size, so do not lament how you look in your postpartum phase. I have written about getting your body back after baby, and you can check those posts.
For now, dress for your size. If you want to shop for something new to wear, think about what size you are now as you are getting close to giving birth, as this will be a better fit for now. If it fits while you're still pregnant, it's definitely going to fit after you give birth.
Tips for Picking the Right Coming Home Outfit for Mom
Here are some essential tips to help you select the perfect outfit for your homecoming with your baby!
Pick Maternity/Nursing Clothes
As you choose your outfit for going home from the hospital, consider maternity or nursing clothing. These will fit better and be more flexible, which is important when you need to feed your hungry baby at the drop of a hat.
Additionally, these things are so stylish now. You can find loads of cute things that are designed for pregnancy and postpartum. But if you want something from a different department, I urge you to size up your regular clothing.
Again, being realistic is so important here. You do not want to pick the wrong size and wind up with clothing that feels too tight or worse, doesn't fit at all.
There is NO shame in wearing maternity clothes after giving birth. None! In fact, many maternity items are specifically designed for nursing, meaning they have a dual purpose.
Think About C-Section Incisions
I want to remind you that for my eldest, I was not at all planning a c-section. She had other plans, though; thus, I had an emergency c-section. I'm eternally grateful that I packed my maternity jeans to wear home. These were easy to fit over my incision without bothering it because the waist was so high.
You should go for a dress or something that is loose around the belly. When I had my youngest, I planned that c-section, and since it was hot out, I brought that red dress I told you about earlier.
Consider the Weather
Dressing for the weather of the season and/or your region is important too. You do not want to be shivering away in a flowing dress in the middle of winter while you waddle through snow drifts.
And you don't want to sweat half to death in summer covered in sweatpants.
Layering is an excellent option because, let me just tell you, those hormones will drive you nuts. I remember being cold directly under the hot sun in August. And in the early spring, I remember feeling like I would sweat to death while it was still cold. Being able to layer and un-layer is a blessing!
Go for Easy Access
When breastfeeding, let me assure you that being able to access your boobs in a flash is of utmost importance. This easy access is crucial as you will find out quickly in the newborn phase.
And Speaking of Boobs…
They are going to be huge. So you will want to accommodate that in the chest area too. Materials that have some stretch to them are preferred for this reason.
Postpartum Essentials for Your Leaving the Hospital Moment
Your life as you know it is about to be changed forever. And yes, that's scary. But it's such a wonderful thing too. You're going to feel strange and confused, which is normal. But you're also not going to think about the things you need underneath that will make this change much easier.
That's what I'm here for!
Before I get into these outfits, you will want to consider these essentials and have them in your bag.
Nursing Bra
A nursing bra will provide comfort and support while feeding your baby easily. We all have our own version of comfort and style, but something like this is a great option because of the V-neck cut, and it can be worn to sleep too.
Nursing Tank
You could also go for a nursing tank, which makes using the 2-shirt method a breeze. This is ideal if you're on the fence about going home from the hospital outfit and want a backup option.
Disposable Underwear
I wish I had thought of this, though. In China, I am curious to know how much luck I'd have had finding something suitable. Disposable undies are great because you won't have to worry about pads or to leak that lochia all over your own undies. Here are some of the best I found for you.
What should mom wear home from the hospital in summer?
If you give birth in the summer or live in a warm climate, you will want to dress for the weather. However, you will also want to be prepared for those hormones because, as I said, I was freezing in the summer while standing directly underneath the sun.
With the following suggestions, you may want a light sweater that matches your style to throw on top in a pinch.
To go home with a baby in the summer, you will want the following:
A lightweight nursing-friendly dress
Tank top or t-shirt with biker shorts
Leggings and a tank top or t-shirt
Tank or t-shirt with athletic shorts (elastic waistband is a must!)
Short-sleeve lounge set (the right one won't look like you're in pajamas)
With that last one, you may be wondering how you could possibly face the world in what amounts to pajamas, but just look at this one or this one and you'll see what I mean!
What should she wear in winter?
Of course, it will be freezing outside, and you'll sweat because you're a new mom! Still, you need to dress for the weather.
Layers are your friend when you can't stand your hormones. So are these suggestions:
Leggings with a long-sleeved tunic
Long-sleeved lounge set
Any of these options can be a versatile way to craft the perfect going-home outfit!
Going Home Outfit for Mom After C-Section
And now, the going-home outfit for mom after a c-section that something I'm very familiar with. If you are having a c-section, you will definitely want to look at this part of my post because your comfort is even more important.
Here are my suggestions…
Cute Pajama Set
Ok, this pajama set is nursing-friendly and so cute. It doesn't even look like pajamas. Plus, the fabric is soft and cozy, making it a win-win!
Drawstring Shorts
Paired with a nursing tank or blouse, these drawstring shorts allow you to customize your comfort. And they don't look frumpy or boring either!
Simple Dress
I think this dress is adorable! It has a flattering cut, won't bother your incision, and is easy to wear while breastfeeding. Additionally, the soft texture and variety of colors and patterns give you the perfect style.
Please remember that it may be up to 6 weeks before you can wear normal clothes after a c-section. The incision area will be very tender, so you want to wear clothing that doesn't squeeze or rub it.
Cozy Yet Cute Options for Every Mama Coming Home from the Hospital
Whether comfort was always your jam or you know you need to be comfortable but don't want to come across as messy, there are a few pieces I'd like to recommend.
Wide-Legged Look
Cozy is the name of the game, but these wide-legged pants look more elegant and put together than old ratty sweatpants. Plus, you can pair just about anything on top for a unique look.
Drawstring Capris
If you like capri pants, go for them! These drawstring capris make it easy to fit your body as it changes.
Nursing Tops
There are tons of nursing tops that can fit your style, keep you comfortable, and make you feel secure when breastfeeding anywhere. I love this short-sleeved style and there are long-sleeved styles too, which are just adorable!
Extra Stylish Yet Practical Options for New Mamas
Ok, I know some of you are still hellbent on trying to look fabulous after birth. You WILL be fantastic no matter what you wear, but I get it. If you have an impeccable style, you may prefer these boho pants. They're flowing and free, and with the right top, yowza! You'll be a hot mama!
Especially if you pair it with this top, which is a little oversized and textured, perfect for the occasion!
But if you really want to dazzle, a dress is the best way to go. And if you want it to be a little more spectacular, this nursing-friendly dress is beyond fabulous. It comes in a variety of colors and patterns too, which is difficult because, honestly, they're all gorgeous!
Oh, and if you want to match with your wee one, may I present this matchy-match set? How cute is this?!?
What You Shouldn't Pack for Your Going Home from the Hospital Outfit
Now that I've covered viable options for what to wear when you leave the hospital with your baby, I'd like to tell you what you shouldn't pack.
For starters, leave the cocktail dresses at home. Honest to goodness, you do not want to ruin them. Anything that needs to be dry cleaned is a huge no from me, simply because your boobs will leak out milk (whether you choose to breastfeed or not), and the fabrics with those things are so unforgiving.
Anything that is beaded or sequined? Bad idea. You don't want to scrape your baby with those embellishments. Plus, if something gets loose, you do not want your baby ingesting it.
Don't bring jeans. Just don't. Unless they are your maternity jeans. Those get my green light pass.
Just say no to tight clothes. I promise you this, you will lament until the moment you get home and are capable of tearing those boa-constrictor confines off of your body.
Things You Shouldn't Forget in Your Bag for Clothes
So, to recap, you will want your going-home outfit to be functional, comfortable, and make you feel good. Whatever that is, make sure it's in the bag. You also need your nursing bra, a nursing tank, and those undies.
And a word to the wise…even if you're not planning on a c-section, make sure your outfit will work if you need one. Believe me, I was not bargaining for a c-section with my first baby. I'm just glad I had my maternity jeans and a cute top to wear on the way home.
I knew what to expect for my second baby and was ready with that dress. I hope that if this is the first baby you're about to have, my tips have helped you find something practical that fits your style to wear when you leave the hospital with your baby.
Also, I have discussed here how many outfits are good enough for your stay in the hospital.
Good luck with the birthing process! You've got this!
Leslie Berry lives with her husband and two young daughters in Los Altos, California, where she loves helping other moms get comfortable with motherhood and embracing the insanity with facts peppered with laughs.
She loves eating too much sushi, exercising, and jamming out on her Fender. Read more about Leslie here.