You've just found out the good news yourself, but how do you create a long-distance pregnancy announcement for parents?
These days, a virtual pregnancy announcement is far more common than it used to be. The pandemic certainly made it more common, though it reminded us of our high-tech resources that can keep us closer even when we're further apart.
When I was pregnant with my eldest, I called my parents. I know, not all that creative, but video calls were newer then. I used Skype to tell them about my youngest.
Now though, many people are looking for creative ways to announce their pregnancy to family long distance. While a zoom pregnancy announcement or a Facetime pregnancy announcement are both ways you can achieve this, I've got some ideas further down on how to have even more fun telling the ones you love.
How soon should you tell your parents you are pregnant?
Honestly, this is all up to you. Most people will wait until they've hit that 13th week to announce their pregnancy officially. Some will spill the beans sooner, though only to immediate family, like their own parents.
It can be hard to keep things hush-hush, especially when it's your first pregnancy and your parents are about to become grandparents for the first time.
Still, it may be wise to wait until you've had a few checkups to make sure things are okay with that baby growing inside of you. You should do what makes you most comfortable, and not to freak you out, the risk for miscarriage is much higher through week 12.
Look what happened to Britney Spears recently. I mean, it's certainly not her first rodeo, but a poor thing. She was so excited to have another baby and announce it to the world, only to have to come back with some horribly sad news. My heart goes out to her.
Please know that whatever you decide needs to be right for you. And it doesn't mean if you choose to tell your parents or other family members before the 13th week, that impending doom is upon you. It's just important that you know that this period tends to be the riskiest, and once you get through it, statistically, you'll be less likely to lose the baby after that.
How should I announce my pregnancy to my parents that live far away from me?
As someone who had to tell her parents from thousands upon thousands of miles away that they would be grandparents, I know how difficult it is.
You want them to be there. You want to hug them. You want to share the joy with them in the same room.
Unfortunately, sometimes we can't always be in the same place at the same time. If you live far away and aren't planning a visit with one another any time soon, you may need a way to tell your parents the good news. So, here are some ideas for you, from the basic to the more extra!
Pick up the phone
Yes, it's basic, but it gets the job done. These days, you can make it a bit more personal by using Facetime or another video messaging app so you can see their expressions.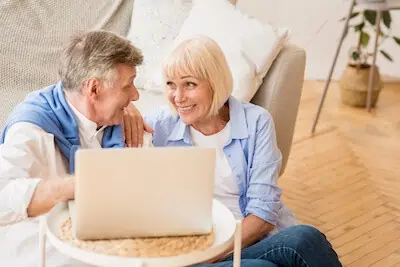 Bonus: you can screenshot the look on their faces when you tell them. And if you do, you can frame it for them and send it as a gift for a priceless memory.
Send a gift that clues them in
When your parents live in another location, and the idea of simply calling them to tell them about the upcoming baby sounds lame, try a gift.
You can print your sonogram photo, enclose it in a nice frame, and send it to them.
You can send them a onesie like this that doesn't mince words when telling them they will be grandparents. Mugs and champagne glasses are also lovely, especially if you send premium coffee or champagne to accompany them. Then you can have them call on Facetime to celebrate together from afar.
Let your other child (or the family dog) give them the news
When my friend Lara first became pregnant years ago, all she'd ever said she was having were dogs. She was (and still is) big on helping rescues though quite a few have found their forever home with her. She was getting to the point in her life where she had begun to accept that maybe she'd never be a mom to a human.
Then she met Jordan, and everything changed. He was certainly worth the wait. They got married in a flash and were expecting their first child together just months later. So they got a sign like this for her parents, and it was just the cutest reveal ever.
For my youngest, I did tell my parents privately on one of our video chats because I didn't want to wait. It was still early in my pregnancy. But when it came time to announce it officially, I made a sign and had my eldest hold it up. You can get an official sign or create one. It would also be nice to have that photo printed and shipped in a frame to your parents to surprise them.
Some people also do this by taking photos of their other child or children wearing shirts that do all the talking, like these sibling pregnancy shirts. One of my friends did this for her latest addition to the family. She had the kids all wear them, and as they trotted up to say hello on Facetime with their grandparents, they suddenly realized what the kids were wearing. She said it was hilarious because it took them a good 10 minutes to piece it together.
Send a tasty announcement
Good news deserves a sweet treat. If you love baking, send them a homemade treat. And if not, it can't hurt to order something to be delivered from a good bakery near them. Look for bakeries that can make cookies in the shape of a rattle or frost a cake with a special message that announces the baby.
Create a countdown clock
Another creative way to announce pregnancy to a long-distance family is to make a countdown clock. You can make your own or a countdown clock and have it sent to your parents. Make it more exciting by telling them to wait until they get on Facetime or zoom with you before opening the package.
Just write it on a card
Of course, you don't want to miss this moment either, so tell them you're sending them a card and you want them to wait until you Facetime to open it up to see them reading it. This is a lovely way to announce your pregnancy to your family without spending a fortune. With the way the economy is right now, you'll want to save that money because you'll need it…raising babies is expensive!
Give them a keepsake
I'll end with my favorite little gem of an idea. Depending on when you're announcing this good news of the baby and when the baby will be born, giving your parents something that commemorates the occasion forevermore is the perfect sentimental way to go.
I personally love Christmas and the holidays in general, so if you're like me, perhaps sending them ornaments like this one for a new grandma will help get the message across.
And yes, you can and should arrange a video call ahead of this and simply tell them you want to see them open your gift on camera. That's all you have to say, and then you can capture the moment in photos.
How to tell your husband and/or others that are far away?
Let's start with the husband, assuming you've found out before he did. Mine went and got me a pregnancy test, so the cat was already out of the bag for him.
If I could go back and surprise him, though, I might get him a shirt that says he's going to be a dad. Or I'd perhaps cook dinner and set a third setting with a card on it, let him look and watch his face.
I'd arrange a video chat via zoom or Facetime for friends and other relatives afar. If you have a lot of people to tell and you don't want anyone getting upset that they weren't the first to know, do a zoom call. You can do poster cards to reveal the announcement, host a game of Pictionary, or something similar. Or simply just tell them.
Whatever you choose to do, have it come from your heart. Remember, it doesn't need to be flashy, expensive, or over the top to warrant congratulations. This news is already exciting enough to those who love you, so don't forget that when you're delivering the message!
Leslie Berry lives with her husband and two young daughters in Los Altos, California, where she loves helping other moms get comfortable with motherhood and embracing the insanity with facts peppered with laughs.
She loves eating too much sushi, exercising, and jamming out on her Fender. Read more about Leslie here.