When it came to my first pregnancy, which was a surprise for us both, my husband and I basically told our families privately. Once we did, we then made it public on Facebook to all our friends and other relatives.
With our youngest, we actually tried to get pregnant. No surprises there, except maybe how quickly we were able to accomplish that.
We first waited to have it confirmed by my doctor. And then, we told his parents and my immediate family. We waited a little while longer to do a fun Christmas post with our daughter holding up a sign that said she was going to be a big sister. Lots of fan mail for that one.
If you're wondering how to reveal the pregnancy to the family for the first time or your 5th child even, there are many fun pregnancy announcement ideas that you can use to make this occasion even more memorable.
When should I tell my immediate family I'm pregnant?
For some of you, this is going to be a shock. You might feel a bit off and suddenly realize you're late, take a home pregnancy test, and find out all by yourself you're pregnant. There's a lot of emotion here, whether you were trying for a baby or you are genuinely as surprised as I was with my first.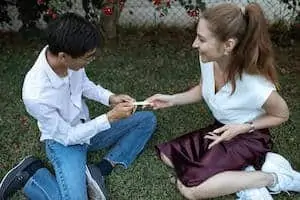 Of course, you'll want to tell your partner first. My husband had picked up the pregnancy test for me, waited outside the bathroom for me to use it, and then we waited together for the time to elapse to see our results. He was probably more excited than I was that I was pregnant. I was over 6 weeks pregnant at the time.
But now, I wondered, how to reveal the pregnancy to the family on my side? His parents being Chinese, would no doubt be thrilled to be grandparents. But what about mine?
In the end, I wound up calling them to tell them, and they were thrilled. My situation is different, though, since I was on the other side of the planet.
This is important:
For most friends, I know, and what doctors have said to me as well, it is a great idea to wait until about 14 weeks to 20 weeks. At that point, there is less of a chance of miscarriage. My dear friend Esther has had 3 miscarriages over the last few years around that time frame. This year, she's finally going well with it and over that 20-week hurdle.
So, let's cover some tips on when to tell loved ones you're pregnant:
Tell your partner immediately if you didn't find out at the same time.
Start with the closest people to you in your family and go from there. This is important for how to tell grandparents you're pregnant because you don't want them finding out on Facebook. Give them a call instead!
If you're not ready to tell, don't. This is especially important if you have suffered a miscarriage before. I personally have not, but with so many friends that have unfortunately been through it, I have seen the pain they've been through. You take the time you need to tell people when you are ready.
And should you be in a social setting that would normally command cocktails, discreetly order mocktails, so no one will notice you're not imbibing if you're not ready to reveal. You don't want someone with a big mouth running around spreading the word and stealing your moment.
Are you ready to announce your pregnancy to your family?
Once your partner knows and you feel ready, it's time to tell your loved ones. I'm guessing you're in need of some pregnancy announcement ideas, aren't you? No worries! There are tons of ways to spread the good news to everyone in your immediate circle (and beyond if you wish to).
How about some fun ways to announce pregnancy to the family in person? To me, I think one of the best ways to announce pregnancy to the family is by doing it face-to-face. We had that pleasure with my husband's parents, and they were so excited.
Announcing pregnancy at a family gathering is a surefire way to make it more special, so let's start there.
If your parents live far away from you, here are some surprising ways to announce the good news to them.
How to announce pregnancy to family at dinner?
When everyone gathers for a family dinner, this is a natural time to present your special good news. After all, everyone that's important can all find out together. There are no hard feelings that someone else was told first.
The holidays really present a wonderful time to do this since it's likely you'll have your spouse's parents and your parents all together plus all the siblings and grandparents if you're still blessed to have them on this earth.
These cute ways to tell the family you're pregnant will undoubtedly make this one of the most memorable family dinners!
You really don't need to be fancy. If you just can't decide on something extra creative, there is nothing better than simply announcing it to all at the table. Some of you will prefer this approach. It's like the proverbial ripping off the bandage in getting it done.
Does your family mill about the house or congregate to watch TV? You can find a fun way to get their attention prior to the meal. If your family likes to build puzzles, why not set down this pregnancy announcement puzzle in front of them for them to work on?
Or, if you're pretty handy with media, you can cue up a message from your computer to the TV and let a slideshow of the ultrasound pop up. Either way, you can certainly surprise your family with great news.
This suggestion comes from my friend Jill, who had gotten married to a super-amazing doctor at the hospital where she works (she's a nurse). With little time to spare, she and her new husband folded up messages under the plates. They waited and waited until dinner was done, and they started clearing the table for dessert.
As Jill told me, "My mom was the first to notice and said, 'Hey, there's a note under my plate,' and suddenly everyone noticed and they all opened them at once and started screaming with joy. We all began to cry, and we were so happy. It turned out even better than we expected!"
I've heard of other people printing custom messages on plates but depending on how quickly people eat; they might get the message before others at the table. I'm not sure if that's the best method. I definitely like Jill's idea, though.
Use serving ware to tell it for you
Does your mom always serve a special casserole dish at family dinners? If so, this pregnancy announcement spoon is one very fun and subtle way to communicate your message!
Present it with a bottle of wine
If the wine is always flowing at family dinners, or you don't want to show up empty-handed anywhere, you can always get these pregnancy announcement wine labels. These stick onto any bottle of wine and make a fantastic way of spreading the news.
You can also keep the family dinner normal until after everyone has polished off their cake and pie. Some fun ways to announce pregnancy to the family in person would surely include bringing props or custom printed features that would clue them in.
My friend Talia and her husband Declan decided to make it a scavenger hunt for their families. Her parents have a huge property bordering the forested land in Oregon, making it the perfect place for a family hike and scavenger hunt.
After they had their Thanksgiving meal, they sent everyone on a wild goose chase for simple things like maple leaves and rocks and such. Then they had everyone find one meeting spot where they lifted a huge sign that announced their pregnancy. It was too cute!
Cute ways to tell the family you're pregnant
Ok, so what if you can't all get together for dinner? Then what do you do to reveal your pregnancy to your family? Here are some super-fun and darling ways to do it.
Whether you want to know how to tell grandparents you're pregnant or your parents to alert them they'll be grandparents, you can have your ultrasound framed and sent to them.
If your parents regularly drink coffee or tea, a mug will make a great announcement. This mug tells your mom she's getting promoted to grandma! There are ones for dads, sisters, brothers, and pretty much everyone in your family too.
How about a scratch-off ticket?
The only thing is that all of these are winners! These scratch-off tickets are ideal for families that regularly buy tickets. Instead, they reveal the big news that you're expecting. How adorable!
This is a special moment for you and your spouse. If it's your first baby, this is your last time together, just the 2 of you. Get that moment commemorated with a professional photoshoot. You'll not only have gorgeous photos to display in your home, but you'll also have a fantastic way to let your parents, grandparents, and siblings know that a new baby is on the way.
You can incorporate a onesie that announces the new baby in the photoshoot, photograph it yourself, or send it to your parents so they'll know. Either way, it's a cute way to announce your pregnancy!
Announcing a 2nd (3rd, 4th, and so on) pregnancy
My friend Shanna was upset because she and her husband are expecting their 3rd child, and she felt overdramatic announcing this good news with a flourish as she had with her other 2 kids.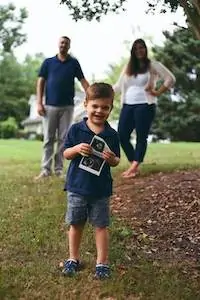 What I told her was that's nonsense. Everyone that loves her will be delighted. You don't need to hire a circus or a ticker-tape parade to announce it, but whatever feels right for you is what you should do.
Many people choose to have their older children pose with signs. It's what I did for my second pregnancy, and it worked beautifully. My friend Jessica announced her third child by having onesies and shirts printed up. The eldest had a t-shirt that said "Oldest" while the younger one had "Youngest" crossed out on hers and then "Middle Child" underneath that. And the onesie announced the new baby arriving soon. It was just adorable!
Whether it's your first or beyond, pregnancy can be an exciting and scary time, as we all know. Don't let announcing it stress you out. Find a way that makes you feel comfortable without giving Grandpa and Grandma heart problems (that means don't jump out and scare them), and you'll be just fine.
This is a special moment, so share it in any way that feels comfortable for you.
One last piece of advice about announcements…
I feel obligated to do my part and remind you all that if you choose to reveal the gender, you do so in a responsible and environmentally-friendly way. I've seen too many people explode confetti all over the place, and we've all seen the news on how those fires were caused in California.
Please announce these things in a way that doesn't damage our beautiful world so our beautiful children and their children and their children's children (and so on) have a clean planet to live on.
Leslie Berry lives with her husband and two young daughters in Los Altos, California, where she loves helping other moms get comfortable with motherhood and embracing the insanity with facts peppered with laughs.
She loves eating too much sushi, exercising, and jamming out on her Fender. Read more about Leslie here.