When I was pregnant with my eldest, my husband and I took off for a few days to Shanghai. It was amazing! We went sightseeing, to the zoo, ate all kinds of food, and simply had a blast.
We recently took a vacation just us, and it was nice to get back to that pre-kids feeling.
You might grow tired of the same old things for mamas expecting their first baby. What cool things to do when you're pregnant could possibly make you happy? Well, guess what…this list of exciting things to do when pregnant will help you out!
I've got 41 ideas for you too. There are fun activities for pregnant couples. There are fun things to do during pregnancy with friends. And yes, there are fun things to do while pregnant on vacation too.
Don't forget how to have fun while pregnant just for yourself. Being happy with yourself is one of the most important things in life. And believe me, it's a great lesson to teach that baby once they're big enough too!
Without further ado, here's my list of fun things to do while pregnant!
Fun Things for Pregnant Moms to Care for Themselves
Looking for good things to do when pregnant? Start with YOU! Mama, you must fill up your cup and make yourself happy. Trust me!
Spend time with your besties
Friend time is the best while pregnant. If you have other friends that are pregnant, that's awesome. I had a couple of friends pregnant at the same time, and we would go out to eat once a week. It was so much fun!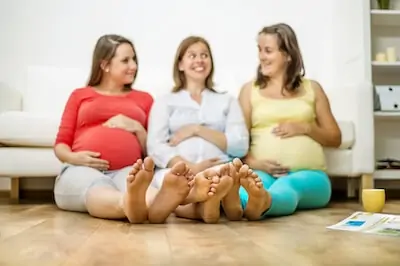 I was far away from my best friend when living in China, though, and for her, we'd talk on video chat every couple of weeks. It was so nice to have that girl talk, no matter the topic. You'll feel refreshed when you spend time with your favorite friends.
Get involved in a project
Have you been putting off hanging up those paintings in the living room? How about organizing the pantry? Whatever thing it is, get to it now. You'll never have time for it after the baby comes along, and you'll feel accomplished and more organized too.
One word of advice, though: choose something non-strenuous. Anything too heavy or exhausting should be left for the spouse of the house.
Get pampered
Nothing beats a professional massage or a spa treatment. Ideally, do them both. Indulge! It's so relaxing! My husband treated me to a professional massage when I was pregnant with our eldest, and it was heavenly.
Make it mani/pedi time
Getting your nails done is another treat too. You can do it yourself, but as you get bigger, you won't be able to reach your toes. Let a pro handle that and relax while you soak your feet. You'll love this well-deserved indulgence.
Connect with yourself
During pregnancy, it is the best time to connect with yourself. Try prenatal yoga or meditation. This is one of the last times you'll ever have complete peace and quiet!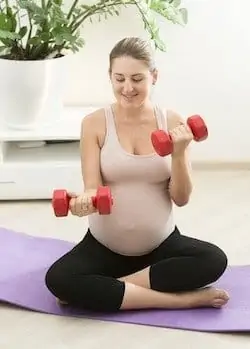 Exercise (safely, of course!)
Exercise is one of the best things you can do for yourself and your baby's health. I know it sounds bonkers, but you'll have more energy when you exercise. It will help you sleep better too. Simple things like taking a walk or swimming are wonderful ways to keep fitness a part of your life during pregnancy.
Immerse yourself elsewhere
Found a series you like watching? Or are you an old-movie junkie like me? Either way, distracting yourself with something that immerses you in it is a great way to escape boredom during pregnancy.
My other favorite thing, of course, is reading. I read so many great books while pregnant. And now, I can never get through them quite as fast. Enjoy these moments!
Listen to the music (or play it!)
For me, strumming my guitar was always a relaxing activity while pregnant. But as I got bigger, it was harder to do. If you play an instrument, you may find peace during pregnancy as you play it.
But if you don't play, that's ok. Just put on your favorite tunes and enjoy. I firmly believe my daughters are rockers at heart because of my prenatal playlist!
Walk in nature
Ok, so it's exercise. But when you're walking in a scenic place, it's just so soothing. Try listening for the rustling of the leaves in the wind, the birds in the trees, noticing the scent of the earth, and all those things in nature that you won't notice once you have a noisy toddler running loose with you one day.
Start an herb garden
I have a brown thumb, but why not make an herb garden if you love gardening? You can do these even on your kitchen windowsill. Herbs are a great way to add more flavor and nutrition to your meals, a total win-win! This indoor herb garden is perfect for beginners!
Try your hand at art
This won't be for everyone, but if you feel an artistic flair arises, why not try painting or drawing? I found it soothing to sketch landscapes even though I wouldn't call anything I made very good. It was a great distraction; plus, if it looks cool, you can display it!
Fun Activities to Do to Prepare for Baby's Arrival
In this section, here are fun things to chase off boredom while you're pregnant. You have to do some of them anyway to prepare for the baby, but they can be fun!
Join a mom community
As early on as you can, join a mom group or community. I was a newly pregnant mama in a new land with no friends. I can tell you that even though my husband was so supportive and helpful, I felt so lonely. That is until I found a mom group. Then I made tons of friends.
Whether your group is online only or a group you can meet, do it. You'll feel much better knowing other women on the same timeline. You can share tips and get advice. Plus, some of those friends will be yours for life. I'm still so close with the lovely ladies I made friends with within my group abroad.
Get your baby registry going
If you haven't already started, get that baby registry together. It takes so long to find stuff you like, plus if you're all propped up on pillows, there's nothing better than making a list like this of all the goodies you'll need for baby!
Start nesting
One day while pregnant with my eldest, I decided to scrub our home from top to bottom. I don't know what compelled me to do so. I just felt like everything was filthy. And thus, my nesting began. Use natural cleaning products to keep chemicals out of your home, which is safest for the baby, and you, too!
Start baby-proofing
It will be a while before your baby crawls and starts getting into things, but you'll be exhausted by then. Now is the time to put outlet covers up, secure furniture with brackets so it won't tip, and put locks on cabinets to keep little hands out.
Oh, and you'd better prepare for a fridge lock too. My friend Kathy found this out the hard way when her son opened the fridge without her knowledge and broke it!
Get that nursery ready
Yes, you've got a registry. But that room needs to be baby-ready. Figure out the furniture layout, put little baby clothes away, and organize it so that you've got everything in its right place when the baby comes.
Create a play space for baby
Indoors and outdoors, there should be a place for your baby to play safely. In the beginning, it will be a safe space for tummy time. But after that, figure out where you will let the baby play. Get a playpen or set up baby gates to corner off a room. Babies can only sit in chairs and cribs for so long. If they have a little area of their own, you'll find you can get chores done without worrying they're getting into something dangerous.
Sleeeeeeeeeeep!!!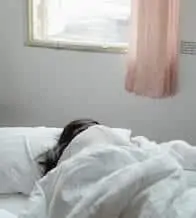 I have to stress this because it's so true. Yes, EVERYONE says to sleep before the baby comes. We may even tell you this, laughing like loons because we're so sleep-deprived. Trust me, doll, it gets to be YEARS before you get real sleep again. I'm just now getting mine after all these years.
Go to bed early and rest up. Take lots of naps. That sleep is pure bliss, and you won't know it until you've been up all night with a baby; I promise you this! Incidentally, this is one of the most fun things to do when pregnant in the third trimester. I found that sleep was my favorite activity!
Fun Things to Do While Pregnant with Husband
Need some date night ideas while pregnant? This section has plenty for you to choose from!
Stargaze together
If you have a local planetarium, that's a great place to go! But to stargaze, all it takes is to get away from the city lights. Head out with a blanket and some snacks and enjoy the peace of life under the stars while trying to identify constellations.
Plan some tee time
Maybe an entire 18-hole golf course is too much for you during pregnancy. However, a mini-golf course will bring out the kid in you. Or, if you'd rather avoid little ones and enjoy your date among other grownups, head to the driving range.
Have a mocktail tasting
These days, non-alcoholic spirits are all the rage. You can find gin, whiskey, wine, and even champagne without a drop of alcohol in it. Check them out and make mocktails to taste and try out.
Take in a couple's massage
Yes, I mentioned the message initially, but that was just for you. You can have another one with your hubby. It's so nice to be pampered together. You can both fully relax and unwind, and it will surely put you in the mood to, well, you know!
Go out for a super-nice dinner
One of my favorite fun things to do for a birthday when pregnant was to go out for dinner. What better way is there to celebrate? My husband told me to order anything I wanted, so I ordered a Shirley Temple and lobster. Yum!
Or just have dessert
Get your just desserts, literally! You can have dinner at home and then splurge at a place with phenomenal desserts. It's so much fun to indulge, and believe me; you'll miss this when you've got a little one (or two!) running around that will steal your dessert!
Try a new place
Have you been curious about that new Thai place? Go out for lunch or dinner with your husband to try a new restaurant or café. It will be a fun way to step outside your comfort zone. And you may even find it to be so amazing that you'll be back again and again!
Head to the theater
Local theater is a great place to go on date night with your husband while pregnant. Check your local listings and see where you can get tickets for theater, symphonies, comedy performances, ballet, and much more!
Kick butt in board games
Your little one will soon be begging you to play games all the time, so get some date night fun with adult-themed games that they can't play. Cards Against Humanity is awesome!
Picnic in the park
Or do it in your yard. The extra privacy may entice you two to be more amorous!
Have an ice cream tasting
Go to your favorite ice cream place and see if you can do a tasting of several different flavors. Order 3 to 5 different ones and share them. Or have it at home by choosing a few pints from the supermarket.
Dine by candlelight
Before my eldest came along, my husband instructed his parents to definitely not stop by so we could eat a nice dinner by candlelight. We grabbed takeout and enjoyed this lovely dinner together, one of our last romantic moments before our eldest made her way into the world.
Fun Things to Do While Pregnant on Vacation
Summer is almost over, but that doesn't mean you don't have time to get on that vacation. Do it, girl! Your vacations will be completely different when you have kids along, believe me!
Swimming
Swimming is almost always a safe activity. It's best in a clean pool though there is nothing wrong with sticking your feet in the ocean waves!
Fishing
I can't think of anything more relaxing than fishing. But maybe that's because both of my grandfathers always took me when I was little. Give it a try…you may even catch dinner for tonight!
Geocaching
If you like exploring, geocaching is for you. It has a variety of levels, so you can adjust it to your needs.
Play games at the carnival or boardwalk
At a theme park or a beachfront boardwalk? You might not be able to do certain rides, but you can play all those games and win prizes too!
Catch an outdoor concert
If your summer vacation idea of fun is live music, find it and go. Choose a venue where you can safely sit without getting bumped, like an outdoor amphitheater.
Wander the gardens
Many vacation spots have botanical gardens. It's peaceful and beautiful all at once, so put on comfy shoes and take a walkthrough!
Try the zoo
Depending on where you visit, you may find a zoo or animal sanctuary. When I was pregnant with my eldest, we went to the Shanghai Zoo, and I saw pandas. I was so excited to see them since it was my first time.
Go glamping
Some of you may be more hardcore, and that's ok. But I'm a firm believer in running water and air conditioning. That said, glamping or traditional camping may be an excellent activity for your pregnant vacation.
However, even if you are as rustic as they come, being pregnant anywhere without a bathroom sucks, so maybe think about choosing a cabin just this one time.
Attend a sporting event
You can get tickets to a baseball game or even just watch the local Little League. Sports are fun to watch, though cover yourself with plenty of SPF!
Pick fruit
Your vacation may take you through parts of the country where certain fruits are in season. From apple to berry picking, it's a simple activity you can do while pregnant that yields delicious results.
Hit up a food festival
And finally, find a food festival near you or wherever you visit. You'll get to sample loads of tasty bites, a perfect activity for a pregnant mama!
Leslie Berry lives with her husband and two young daughters in Los Altos, California, where she loves helping other moms get comfortable with motherhood and embracing the insanity with facts peppered with laughs.
She loves eating too much sushi, exercising, and jamming out on her Fender. Read more about Leslie here.