For most new mamas, and believe me, I remember when I was one of them, one of the most frustrating things (besides the exhaustion) is that you don't look like yourself. Naturally, it took 9 months to get through the pregnancy, and your body has undergone many changes.
It's a miracle for sure, but what would be even more miraculous is if you could get back into your regular clothes again. Unfortunately, if you have an apron belly, it will take a bit longer than you think.
Fortunately, apron belly support exists. Hiding an apron belly is easier when you have one of these support bands to smooth things over. Getting rid of an apron belly is on you through a healthy diet and lifestyle. You may also choose surgical and non-surgical treatments to help get your belly back to the shape you want.
So, let's run through how you can get apron belly support as you work through weight loss and get back on track!
Full coverage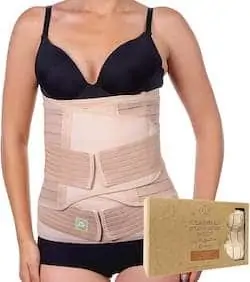 Apron belly is annoying, but if the rest of your belly is also looking wonky, this 3-in-1 Postpartum Belly Support Recovery Wrap may be your ticket to hiding your apron belly. It has a soft fabric that is breathable and elastic to fit around your contours. There's a stomach belt to prevent sagging and reduce swelling, a waist belt to support your lower back, and a pelvis belt to help your hips.
It's a great and affordable choice for mamas who want more coverage. It has loads of positive reviews too, but you may want to wear a layer underneath it to keep yourself entirely comfortable, like a thin tank top, or have underwear that comes up high enough.
Hanging belly belt
Uriel Abdominal Belt for Hanging Belly is specifically designed for apron belly support. It brings support to your abdomen and keeps you from lower back pains. It's easy to adjust and leaves the upper part of your stomach free and clear, just focusing on this lower part. If you want a snugger fit, choose a smaller size when ordering.
Apron belly support band for plus size
QORE LOGIQ Plus Size Abdominal Binder was made for those who fall into the plus-size range. It features 12 inches of width and a blend of polyester and nylon for a breathable wearing experience while giving you the compression you need. Whether you have had a c-section or hope to have surgery to correct your apron belly soon, you can use this apron belly support band.
It hides discreetly under your clothing so you can feel more confident in what you wear as you work on your body. And as a bonus, it helps keep your posture proper, so you look even more beautiful at every angle.
For before and after
The Jill & Joey Maternity Belt is another one to look at if you're going into pregnancy with an apron belly. It helps relieve pains by supporting that extra belly while taking the pressure off your spine. It can also fit up to 45 inches around the waist, giving you easy access to Velcro closures that stretch into place and allow your belly to grow.
Since the belly changes shape throughout the day during your pregnancy, this apron support belt can help you adjust it to be comfortable anytime.
And yes, you can use it after you deliver to help get your apron belly out of there and get back into shape!
Some other useful items for apron belly
Along with apron belly support, you may want to get new underwear that helps you feel comfortable. These are high-waisted with stretchy elastic to help tuck things in a bit. This can keep you from feeling chafing or sweating in that area, so you feel comfortable.
And if you're wearing an apron belt, you will have material that comes up high enough to fit underneath it with this underwear. It will add to your comfort and confidence.
Another option is to use belly liner pads. These prevent irritation and chafing while soaking up sweat, so you don't have it under that tummy fold. Made from 100% cotton, these liners are machine washable. With 3 in a set, you'll always have one to keep you feeling fresh and comfortable.
Final thoughts on apron belly support…
Having an apron belly is uncomfortable, and for many women, it's a point of embarrassment. Stop beating yourself up and start showing yourself the love you deserve! There are options for you to get rid of that apron belly. It begins with living healthfully with a proper diet, exercise, stress reduction, and sleep. Focus on these things, and you'll see that fat pocket disappear.
You can also use non-surgical and surgical options to remove the apron belly. Until you decide the right thing, apron belly support bands are a great option to feel happier with your appearance.
Leslie Berry lives with her husband and two young daughters in Los Altos, California, where she loves helping other moms get comfortable with motherhood and embracing the insanity with facts peppered with laughs.
She loves eating too much sushi, exercising, and jamming out on her Fender. Read more about Leslie here.