When you're getting ready to give birth via c-section, you may think ahead to those compression garments to wear afterward. Every mama is excited to hold her baby for the first time, but she also wants to fit back into her pre-mama clothes. I totally get it.
And while you will need a little patience to allow for your recovery, those medical-grade postpartum compression garments can make a big difference in your c-section recovery. However, before you run out to buy one, there are a few things you need to know first.
Compression garments are great to use a few weeks after your c-section.
They have many benefits, from pain relief to faster healing and improved circulation to body shaping.
See great recommendations for medical-grade postpartum compression garments in several styles that can help you recover too!
When should I wear compression garments after a c-section?
In China, they gave me some weird band that I wouldn't call a compression band, but I'm really just not sure what to call it. It did help keep me from banging into my incision, though, and helped pull things together.
Your doctor may give you something like this, or they may not. But you can ask – even before you ever go in for your c-section – when you can start wearing compression garments.
Generally, they will tell you about it a few weeks after your c-section. It's always best to ask your doctor what they advise on when to wear compression garments for your individual case, but if all is going well, about 3 weeks afterward is a great time to start.
Do compression garments help after a c-section?
Absolutely! Compression garments can be extremely helpful in your c-section recovery. Once those few weeks pass, here's how you can reap the benefits.
Pain Reduction
With compression garments, they help reduce your pain while walking. And they can ease those pains if you should cough, sneeze, or laugh too. This is because they support your abdominal muscles.
Better Comfort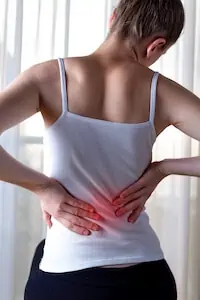 One thing I learned very quickly after my first c-section was just how much my back could possibly hurt. Newborns don't weigh much but by golly, trying to sit in an upright position postpartum while recovering from a c-section is painful!
When you start wearing compression garments, it helps ease the pain while you sit up to nurse your baby. And trust me…this is so important because newborn babies will eat so frequently and take so long to do it that you will think that the only thing you do is feed that child!
Faster Healing
Compression increases blood flow, which is a good thing. This can reduce swelling around your incision and help it heal faster. Plus, the scar tissue at your c-section incision needs more oxygen for better repair, so allowing blood flow to the area can improve your recovery.
As it does, it also helps your lymphatic system out to bring nutrients through your body as well as remove waste from cells and tissues.
Pelvic and Abdominal Recovery
By wearing compression garments, you can support the entire pelvis and abdominal area. This can be especially helpful if you have diastasis recti, which I've written about before. If you have this condition (see my post to check if you do), you will most certainly want to talk to your doctor about wearing a compression band.
Helps Your Back
Remember that your abdominals and back muscles work together. Your abs can't really help you out right now, so you've got to support them. In doing so, you eliminate those back problems I mentioned. And not just during feeding time, which is very important, but also to keep your posture in a proper position. When I noticed I was hunching over, my husband helped me to translate my questions to the doctor, and she recommended using compression at that point.
Shape Your Body
Gentle medical-grade postpartum compression garments help your body get back into shape faster. It also allows your skin to tighten up rather than hang loose. Even before you get back down to size, you'll see these things enhance your body's appearance and bolster your confidence.
How soon can you wear shapewear after a c-section?
Again, I recommend waiting just a few weeks after your c-section, though speak with your doctor. Go with what they advise, but that's the general rule of thumb there.
Now, you're probably wondering what compression garments to choose, aren't you? I've got you covered below with a few suggestions in different styles.
Medical-Grade Postpartum Compression Garments
Unfortunately, I can't find the exact one I used in China, but that's ok. These are the top-rated options for compression garments; each has a different style that may appeal to you.
Shapermint
I've chosen this one for a high-waisted shorts style. It's made from nylon and spandex and features a pull-on format. So there are no buttons or snaps to fumble with here. You just pull them on over your underwear, and voila! It provides tummy control and fits discreetly underneath your clothing with ease. These would be good for a mama that doesn't want to fuss with shapewear but wants to wear it.
Next up, Yianna has this Colombian-style shapewear that lifts your butt for added confidence. It is made from nylon and spandex with a zipper closure. Using compression technology and with ample stretch, it serves to enhance your curves while smoothing everything in.
What I like about this one is its adjustable shoulder strap. This keeps it from slipping down on you all day long and may be the right choice for mamas that work outside the house, so you're not always worried it will slide off underneath your dress.
And finally, Movwin has this belly-wrap style that you may prefer. It also wears like panties, but it has an opening you can use when you've got to go. The nylon and spandex allow for movement while providing compression and support to your back and belly. The medical-grade design is one that experts favor to help you smooth your belly while you recover from your c-section.
A final word about compression garments…
Another thing these garments do is boost confidence. And that's a great thing because, with your hormones after the baby, you will be sad that your body which was once a temple, now looks like a funhouse. But that's ok, mama, because it will return to the right shape.
It takes time, but the compression garments also show you how you will look as you continue your recovery and work on your health postpartum. For me, it was incredibly motivating. Eventually, you will tuck your maternity clothes away and replace them with your pre-pregnancy wardrobe.
You may do this temporarily for a few years before you decide to have another baby. Or you may decide that you're done making babies and donate your maternity garments to a mama in need. Either way, you will only be in maternity clothing for a while, and that's another great benefit of these compression garments.
Leslie Berry lives with her husband and two young daughters in Los Altos, California, where she loves helping other moms get comfortable with motherhood and embracing the insanity with facts peppered with laughs.
She loves eating too much sushi, exercising, and jamming out on her Fender. Read more about Leslie here.