My friend Jasmine has always been a tiny little thing. She just barely hits 5 feet in height. And so, as a petite pregnant woman, she had a lot of challenges ahead of her. Petite pregnancy weight gain, for one, shows up so quickly that people get judgmental.
She'd call me crying because her nasty mother-in-law would make backhanded comments about her being petite and pregnant. I reassured her that her petite pregnancy bump was nothing to worry about.
And then, I made sure to meet up with Jasmine to help her select petite pregnancy clothes. We made a day of it and had lunch. It was so much fun!
Jasmine recently reminded me of her struggles with being short and pregnant. So, if you're a short pregnant girl, in honor of Jasmine (whose birthday is today and who inspired this post along with all the messages from you mamas, too), I'd like to make this post all about you and your petite pregnancy questions and concerns.
And at the end, we'll go shopping together! I've got some really great petite pregnancy clothes ideas for you below!
Does being petite affect pregnancy?
Well, let me be blunt here…yes. Being petite and pregnant means you may have a greater risk of delivering a preemie. Shorter mothers tend to have shorter pregnancies. They also have smaller babies.
And the dangers of twin pregnancy in petite women are more significant too. It's more likely you're going to need a c-section. Discuss this with your doctor if you'd like to try for a natural birth. He or she will lay out the risks and help you make a birth plan.
Remember, there's no shame in having a c-section. You have to do what is best for you and your baby. You can always try to go for natural, but if things aren't progressing or your pelvis is too small (another problem for the petite and pregnant), you may have little choice.
Can a short woman give birth naturally?
Yes! There is hope! My friend Bella is a bit on the short side and had her daughter naturally. The reason was her pelvis was adequate size. While she was short, her torso was longer, making it easier to go natural on this.
Relevant: What differences does a short-torso woman encounter during pregnancy?
But for Jasmine, she was petite with a short pelvis and had no choice when it was time to deliver. She had discussed this very thing with her doctor, and they had done everything they could to try to have her deliver naturally, but it was just not happening, so she had a c-section.
I'm not considered petite though I'm not tall either. I had trouble delivering my eldest naturally, so I had a c-section. And I did not want to go through that ordeal again, so I planned my c-section with my second daughter, which was much easier.
So, if you're short and your pelvis is properly sized, you may be able to have a natural birth. However, your height becomes an issue if your husband is much larger than you because the baby may have those larger genes that make getting out a natural way a bit too much for you.
How soon will a petite girl start showing up during pregnancy?
They say you will likely start showing in pregnancy around 12 to 16 weeks. But those that are short and pregnant will probably show a bit before that. Jasmine was showing around the 10th week, and she wasn't a portly person before her pregnancy.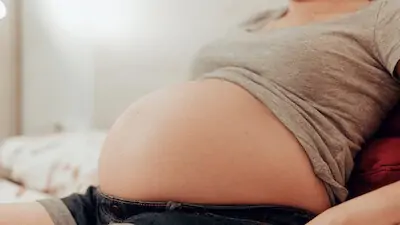 If you have multiples in there or this is not your first rodeo, you'll also show earlier. And you'll show even more noticeably during these instances if you're short.
Does a saggy belly after pregnancy happen to petite women?
Well, now I have some good news for you, short pregnant women out there. Loose skin and saggy bellies are normal for most moms, regardless of size. The skin stretches across your belly during pregnancy to accommodate its growth.
You don't have to let it go all willy-nilly, though. If you take care of your health during pregnancy, you will minimize the effects of this stretch. Your weight, age, and genetics all play a role too.
The Office on Women's Health (OWH) says that women who exercise while pregnant are more likely to return to normal weight after having the baby. Additionally, you'll want to ensure you get enough nutrition. A prenatal vitamin is essential and something your doctor should have already given you to keep up your best health.
Relevant: How to get rid of mommy belly through exercise and good nutrition?
Petite or not, you should also be slathering your growing belly bump with moisturizing products. Doing so will keep skin soft and supple and make it less likely to have stretch marks. It will also help prevent a saggy belly.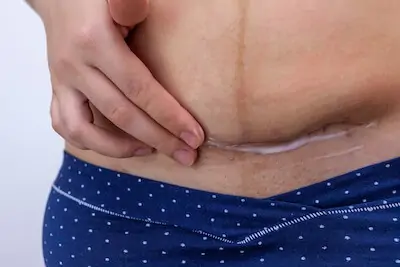 What I used for that was something called Bio-Oil. An expat friend had recommended it, so I ordered it while I was in China and was delighted with the results. When you see me in a swimsuit, you do not see any signs that I had children. Unless, of course, my children are with me.
I'd say that's the most important thing for you to wear as a petite pregnant woman. But now, let's talk about clothes!
What should pregnant petite wear?
I always find shopping fun. Yes, I loved shopping for maternity wear, even when I was pregnant. But for those who are petite and pregnant, you may feel like everything is too long or frumpy. And no pregnant woman should feel like that.
Plus, pregnancy sizes are confusing to begin with, and your body's parts are all changing. Your bra size is going to go up, too, another annoying factor. The best way to shop for petite pregnant women is to find your regular petite size in maternity.
This is important:
Pants and dresses should be carefully selected since they may be too long for you. Choosing them with shorter lengths will prevent a trip to the seamstress. Additionally, stretchy materials are your friends. Believe me; those clothes feel much better than something that might pop.
And then there's the fabric that can run too sheer when stretched. Just watch for that because you don't want to choose a stretchy dress that shows off everything underneath. Well, maybe for just you and your husband, but not for wearing out!
So, let me give you some clothing categories below and help you shop for things that will help you look great during your petite pregnancy.
Sweaters
When the weather is getting chillier, but you want to look cute, a hooded knit cardigan that you can leave open or button up is just perfect. I love this style because you can wear it in your early months or later on. And! It's so cute; you'll likely wear it long after you've lost that baby weight too.
And this pullover, I'm kind of loving for any time. It's soft and comfortable, perfect to cozy up, though it may get a bit snug when the baby arrives.
Pants
For me in China, as cold as it got, I could not have survived without maternity jeans. I wore mine until they completely wore out. Even after having both of my daughters, I would wear them when I had my period for added comfort and stretch because there were no buttons or zippers. While I bought mine over there, this highly-rated pair of petite maternity jeans looked almost identical to the pair I had. I practically lived in them!
Can you get away with wearing scrubs to work?
If so, these pants are another option. They have a drawstring waist that will help grow with your ever-expanding belly. And they come in a bunch of fun colors too!
Yoga pants were another favorite of mine. While I'd usually only wear them around the house, they provided endless comfort during pregnancy and afterward when I'd spend most days nursing my sweet angels.
You can look professional and polished in petite maternity dress pants for those with office jobs. I love the slimming look, and the waistline looks very comfortable and discreet.
Tops
With the right bottoms, these tops will look fantastic. Some of my favorites:
This top works for petite pregnancy AND nursing. It's very discreet and has lots of colors/patterns.
I may just order this tunic blouse shirt in my size because it looks like it would be flattering on anyone, pregnant or not. The added room and flowing style are so feminine, and all those colors and designs make it easy to stock up your maternity wardrobe.
Show off that baby bump, AND stay warm all at once. These maternity shirts make it easy to layer for comfortable wear with long sleeves. If you live somewhere hot or want short sleeves, I recommend these bump-hugging shirts!
Nursing Bras
Let me just tell you, if bras normally annoy you, they're REALLY going to aggravate you while pregnant. Choosing something you can use with your growing boobs beyond pregnancy is ideal. Underwires will make you scream, so this option is the way to go with no underwires and the ability to adjust it to your comfort no matter how your boobs grow.
If you like low cuts or wear lots of tank tops in the heat, this 5-pack of nursing bras may be perfect!
Also, the first option I listed here comes with bra extenders, but if you choose a different maternity/nursing bra, you may want to grab a few bra extenders to help keep you comfortable. I also used them after I had my daughters when I was still losing weight because my regular bra was squeezing me. These are genius!
Dresses
There are SO many dress styles. And dresses are one of my favorite things. So to that end, check out these flattering styles:
Ruched empire waist that will flatter just about anyone and in tons of colors and patterns. This maxi dress would look great at your baby shower!
Midi-length wrap dress that I love even more because it makes it easy to breastfeed, so once the baby comes, you'll get even more use out of the dress.
Short-sleeved pocketed dress is seriously adorable, though it may be harder for breastfeeding. But if you're early in your pregnancy, you'll get a lot of wear out of it and will likely enjoy wearing it when you've finished nursing.
Final thoughts on petite pregnancy…
Yes, you face a few more challenges than your taller counterparts, but don't worry about a thing. Your doctor will guide you on what is best for your situation. Remember, plenty of short women normally deliver, too, so don't freak out.
As for clothing, choose what makes you feel comfortable and beautiful. However, think about how much use you'll get from each item. Choosing a dress that can stretch or be adjusted to fit along with you as you grow makes the most sense.
If your budget is limited, I recommend getting tops and dresses that allow for ease with breastfeeding. These things will also flatter you as you work to lose that baby weight and provide coverage while you feed the baby everywhere you go, so no one will get a peek at what's underneath.
Leslie Berry lives with her husband and two young daughters in Los Altos, California, where she loves helping other moms get comfortable with motherhood and embracing the insanity with facts peppered with laughs.
She loves eating too much sushi, exercising, and jamming out on her Fender. Read more about Leslie here.