Are you wondering what baby products you truly need? As you create your baby registry, you'll wonder what the differences are between a baby bouncer vs. swing vs. rocker. These baby items are beloved by millions of parents, but sometimes, the names are used interchangeably, and they aren't the same.
I've tried each one of these with four kids, and I know the ins and outs. It's not a one-size-fits-all situation. So, if you have questions like – which is better – swing or bouncer -, I have you covered with everything you need to know.
Do I Need a Bouncer, Swing, or Rocker?
In short, no, you don't need any of these baby gear items; parents had babies for centuries without a swing, bouncer, or rocker. You can survive without one if you're on a tight budget or trying to be a minimalist mother. Unlike diapers or a safe place to sleep, these are far from essential items.
That doesn't mean they're not useful. At some point, you need some hands-free time. Whether it's to take a shower or cook dinner, having a safe, comfortable place to put your baby makes buying one of these important.
All of them provide one thing that babies like – motion. No wonder babies prefer to be in motion; the womb is like the ocean's gentle rocking. They were never without movement, so using these baby gear items makes transitioning to the real world easier.
Baby Bouncer
Bouncers are designed for babies who are unable to sit unassisted. Some transition to a toddler chair as your child ages, but these are more expensive options.
A basic baby bouncer is a soft seat on a wireframe that springs up and down with movement. It can be rocked back and forth by hand, or your baby's motions will create the bounce.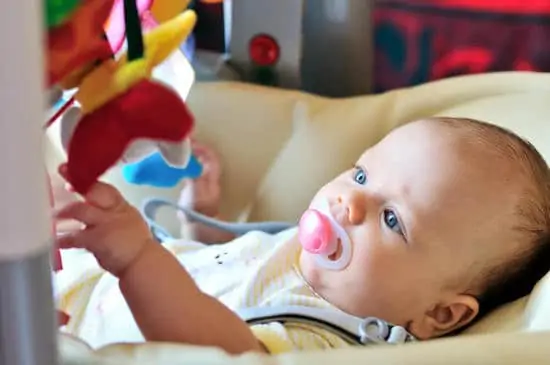 Bouncers are ideal for playtime for babies once they learn to move their arms and legs. Soon, they start to swing their arms and kick their legs, sending the bouncer into all kinds of motion. Doing this teaches your baby cause and effect.
At first, my babies didn't like bouncers; I didn't find them a good choice for a newborn baby. Once they were two months old, bouncers came in handy. I put my baby into the seat, and the toys encouraged them to kick, leading to the bouncing motion they loved.
How to Pick a Baby Bouncer?
Here is what to consider when picking a baby bouncer.
Weight Limit
Since baby bouncers can be used for extended periods, ensure a higher weight limit. Some bouncers can be used for up to nine months.
Toys Included
Some bouncers include a toy bar above your baby's head that encourages your child to kick and play. That sends the bouncer into motion. Ensure the bar is removable; it won't be as interesting when your child gets older.
Size
You don't want a bouncer that takes up a lot of floor space. These should be stored easily and relatively small.
Pros and Cons of a Baby Bouncer
| | |
| --- | --- |
| Pros | Cons |
| Easy to store | Not ideal for newborns |
| It doesn't take up much space | |
| Ideal for active babies | |
| Some convert into a child seat | |
My Pick for a Baby Bouncer
One of the advantages of a baby bouncer is that they typically don't cost as much as a baby swing. I would pick the Fisher-Price Baby's Bouncer as the best baby bouncer.
Here's why.
It's budget-friendly. You don't need to spend hundreds of dollars to keep your baby happy.
The seat features different vibrations to calm your baby.
It has a soft, machine-washable fabric seat pad.
Don't forget the removable toy bar above your baby's head for entertainment.
Baby Swing
The easiest to identify is a baby swing. It's a swing seat that cradles your baby in a nicely padded chair with a recline suspended on a frame. Baby swings go back and forth or side to side, mimicking a mother's womb's natural rocking motion.
These are often one of the first things parents put on their registries, and there are many different styles of baby swings. My babies loved their swings more than anything else we tried for them, especially when we used swings that could go side to side and back and forth.
Baby swings are the most used item for our children when looking at bouncers vs. swings vs. rockers.
How to Pick a Baby Swing?
As I mentioned, dozens of baby swing brands are available at various price ranges, making it harder to pick the right one for your child. Here are a few considerations.
Versatility
First, you want it to be versatile. Look at the motions and how it swings. Can you turn the seat so it goes back and forth and side to side? Some babies prefer one or the other.
Other baby swings vibrate as well as swings, so you need fewer baby gear items. You might want one that has attached toys or a rotating mobile.
Mode of Powering
Baby swings have two powering modes: batteries or electricity. Battery-powered is excellent if you want to move the swing with you or use it for traveling, but batteries are expensive for daily use.
On the other hand,
Plugging in a swing to an outlet is cheaper than batteries, but it limits how far you can move the swing and where you can place it.
Safety is a huge factor in any product you buy for your baby. All swings must have a three-point harness system but look for a swing that features a five-point harness to be even safer.
Last, look at the weight limit. Some have a low weight limit of around 20 lbs, but some have limits up to 30 lbs, extending how long you can use the swing.
The Pros & Cons of a Baby Swing
| | |
| --- | --- |
| Pros | Cons |
| Calms babies easily | Require some sort of power to work |
| It gives parents moments to be hands-free | Some are noisy |
| Smaller versions work for traveling | |
| Safe to use for newborns | |
| Versatile | |
My Pick for the Best Baby Swing
Baby swings tend to be a bit more expensive, but this item will last you through all of your kids. There is no reason to buy more than one.
My top pick is the Graco Simple Sway LX Baby Swing. Here's why.
It has a maximum weight limit of 30 lbs.
You can either plug it into the wall or use batteries.
The seat has two vibration speeds as well as six swing speeds.
The seat flips to rocks back and forth and side to side.
Graco also included melodies and nature sounds to help calm your baby.
What is a Baby Swing Age Limit?
Baby swings are safe to use from birth until your baby is around six to nine months old. How long you can use a baby swing depends on several factors, including the recommendation of the particular swing you have and your baby's weight.
All baby swings have a weight limit as well as a recommended age limit. Most are between 25-30 pounds, but some have a higher weight limit. It's advised pediatricians to stop using baby swings when your child can sit up unassisted or tries to climb out of the swing.
Are Baby Swings Safe for Newborns?
Yes, baby swings are safe for newborns to use, but they're not safe for unsupervised sleep. That's tricky because the rocking motion lulls newborn babies to sleep. The American Academy of Pediatrics recommends parents move their sleeping baby out of the swing and into a crib.
Wondering how to clean a baby swing? Here is my guide.
Baby Rocker
A baby rocker uses the same concepts as an adult rocking chair but is created for babies. It's a padded seat with two curved legs at the bottom that let you push the chair rockingly. Your baby's movements may move the seat, or you can rock the seat with your hand or foot.
Note that..
Compared to baby swings, rockers are compact with a smaller frame. Most sit lower to the ground than swings, which means they are less of fall risk.
A baby rocker wasn't as practical as I had hoped for my babies. They didn't provide enough motions for my babies to relax until they were older and could kick and create movement. As newborns, babies don't kick strong enough to make a motion. When you need hands-free time, no one wants to stand there and rock the rocker over and over again.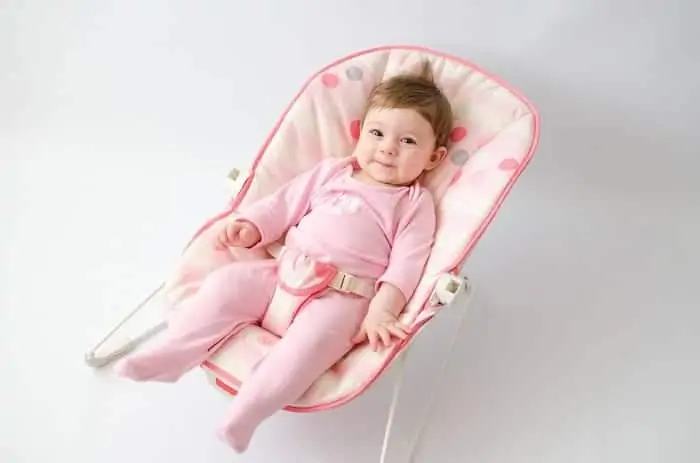 Some companies, the biggest being MamaRoo, created rockers that rock automatically. That's an option you can try, but most cost more than baby swings and make close to the same movements.
Picking a Baby Rocker
The nice thing about a baby rocker is that they're generally affordable, so trying one won't break the bank. If you decide to give a rocker a try, here is what to consider.
The Frame
A sturdy frame is an essential part of a baby rocker. It needs to be made of metal and have non-slip padding at the bottom. Make sure the frame is wide at the base to reduce any risk of tipping over.
Extras
Look at if there are any extras included. Most are just the rocking motions, but some include lights, vibration, and music if you don't mind spending more money.
Padded Seat
One of the most important features of a rocker is the padded seat. You want your baby as comfortable as possible. Make sure the fabric is soft and not itchy.
The Pros & Cons of a Baby Rocker
| | |
| --- | --- |
| Pros | Cons |
| Calms crying babies | Outgrow easily |
| Requires no power to operate | Not ideal for babies who cannot make motions themselves |
| It doesn't take up much room | |
| Great for babies who kick and are active | |
My Pick for the Best Baby Bouncer
One of the best baby bouncers is the Fisher-Price Deluxe Infant to Toddler Rocker Seat. I like the versatility of this seat; I started with the original one over ten years ago!
Here's why this is a great pick.
The seat adjusts to being used for a toddler up to 40 lbs.
It has three reclining positions and a kickstand for stationary seating.
The vibrations help to calm and soothe your baby.
Above his head is a removable toy bar with several toys to encourage your baby to reach.
The seat pad is machine washable.
Common Questions
Is a Rocker the Same as a Bouncer?
No, a rocker isn't the same thing as a bouncer, but some are combined nowadays. A bouncer is stationary and doesn't have a rocking motion. Instead, the wireframe allows the seat to bounce up and down. Rockers are set on curved legs that enable the chair to rock back and forth.
Do I Need Both a Bouncer and a Swing?
Having both a bouncer and a swing is a good idea. Swings are better for calming and relaxing your baby, eventually sending them to sleep. Bouncers are fun and great for kick and playtime.
Which is Better – a Swing or a Bouncer?
A swing is better for a newborn baby or when your baby is tired and needs to rest. Your baby will relax and might fall asleep, but remember to move your sleeping baby to his crib once he does fall asleep. Bouncers are great when your baby is a bit older and wants to play, but you must cook or shower.
Which is Better – a Baby Bouncer or a Rocker?
Rockers are ideal for newborn babies more than older babies; rocking isn't as fun. Luckily, some companies include both the bouncing and rocking functions in one unit. So, if you can't pick, find one that is combined.
My Recommendation
It can be hard to decide between a bouncer vs. a swing vs. a rocker, but you don't need to buy all three. After four kids, I recommend that parents buy a baby swing for their newborn baby and buy a baby bouncer once their child is a month or two old and starts to interact a bit more and likes to have fun.
Hey, this is Linda. My biggest accomplishment in life is being a mother of four children. Their current ages range from almost ten years old down to 20 months old.
I'm passionate about writing parenting articles because I understand so well all of the problems and trials you face as a parent. From breastfeeding woes to budgeting problems and behavior problems, along with everything in between, chances are I've faced it over the last ten years. Read more about Linda here.