Way back, ages ago, when I first met my husband and first went to China with him, I brought his parents a gift. It was nothing large or expensive. In fact, it was just some simple Asian snacks.
But that gift for my boyfriend's parents first meeting would set an impression. A good one.
It's basic etiquette, though that might be a bit less obvious if you're meeting on neutral territory for the first time, like at a restaurant. Or what if they come to the home you share with your love for the first time?
Relax; I've got you covered.
Hopefully, your boyfriend or fiancé will give clues about what his parents like so you'll choose something suitable. After all, it would be in extremely poor taste for you to bring a liquor bottle if they don't drink alcohol. Or to bring flowers if his mom is allergic. You get the idea.
Anyway, I'm about to give you the lowdown so you can make that proper impression the first time around.
Though be forewarned…some people are just impossible to please. Always keep your manners, and no one will ever be able to say anything about that.
Should you bring a gift when meeting your boyfriend's parents for the first time?
I'll answer this officially now…yes! It's not an obligation, of course. But if you are going to their home for dinner or are staying with them for a visit, it is absolutely mandatory and good manners.
I'd venture to say it's a lovely gesture when you meet for the first time anywhere, but at their home, it is of utmost importance never to forget a gift.
It doesn't need to be expensive. However, it should never look cheap. They're more likely to remember you as thoughtful and well-mannered over whatever you decide to bring.
When meeting his parents for the first time, your cultural background is fundamental to keep in mind. If they differ, as in the case of my husband and me, you MUST check with your boyfriend or fiancé if any items would be considered bad luck or rude in his culture. This guide covers a few popular countries, but please ask your man. Believe me, he'll be relieved you have this on your mind and will want to prevent you from offending his parents.
What to bring when meeting his parents?
Now, onto the shopping! That's my favorite part!
These suggestions could inspire you to give his parents the perfect gift at that first meeting.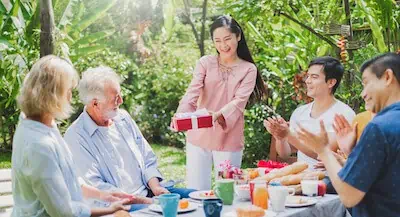 Wine or spirits
If your boyfriend's parents enjoy wine or have a favorite spirit they use to make cocktails, this is one of the perfect gifts, especially when they invite you to their home. Your man can tell you if they prefer white or red wine, list any specific varietals, or tell you they love mojitos even more than their own son, so rum would do.
Buy something of good quality…you do not want to show up with that $3 wine from Aldi (no offense to that wine either…it's fine in a pinch, honestly, but I would never bring that as a gift for anyone).
Also, don't just show up with the bottle in hand. Please put it in a lovely decorative gift satchel or wine gift bag.
Flowers
Please make sure with your fiancé that no one in your parent's home is allergic to flowers of any kind. If you are allergic to a specific bloom, avoid it. If you find out your future MIL loves daisies, get them. You can present them in a beautiful bouquet or a vase.
Restaurant gift card
I'd venture to say this is a better gift to give if you are already engaged. It's also ideal if your husband-to-be tells you, "Mom and Dad love going out to Carrabba's every weekend." Additionally, this restaurant should be close enough to them that they'll actually go to it.
Basket of fruits
Now, this is one of my favorite options because it is always a safe bet. The fruit is healthy, looks beautiful, and is arranged in a nice basket. You can DIY and buy a pretty basket, add fresh fruit, or order one from somewhere already arranged. However, you want to present this with you when meeting the parents for the first time, so order it for your home first.
Not sure if it will last? Try a dried fruit selection, or do something with nuts if you know they aren't allergic.
Something from your hometown or country
When cultural backgrounds are different, this is a great idea. But even if you're from NYC and your parents are from San Francisco, you can use this to find the perfect gift to give them.
In this example, you could bring a magnet for the fridge of the Statue of Liberty or a non-perishable item that represents your city. Basically, something from your region that is unique might just be the thing you're looking for!
Homemade goodies
When visiting your future parents-in-law, a homemade dessert is always a lovely gesture and makes for a great meet-the-parents gift. But if you're not a baker, no worries. Even picking up something from your favorite bakery will send the right message.
Coffee or tea
Fine coffee or tea assortments are also lovely. They tend to be a safe choice, too, if you can't seem to figure out what to get them. Even if they don't drink coffee or tea, they'll likely have guests come by, and they will be able to serve it on those occasions.
Box of chocolates
A box of beautiful and elegant chocolates, or even chocolate-covered cookies, could be an easy way to impress. As long as no one is allergic, those future in-laws will most likely appreciate it!
A gift for the home
Candles can also be a lovely gift, though they should be the kind that is packaged nicely with a bow and come in a jar. However, be cautious with these since the fragrance may not match their aesthetic. And do NOT give them anything that states "odor eliminating" on it because your MIL will likely take it the wrong way and think her home is not up to muster with you.
A better bet is something like a picture frame or a coffee table book targeting their interests. For example, if you know his parents love visiting lighthouses, a coffee table book about that would be perfect.
Aside from gifts, bring this…
When you meet his parents for the first time, don't forget your smile. It always makes a good impression. Hopefully, you'll know a bit about them first, so if your future FIL is a professor, you could ask him about that. If you've learned about their interests, you can ask about that too.
Remember, they will likely try to get to know you too. While that seems daunting, just relax and be yourself. In a perfect world, you will get along, and it will all be great. But sometimes, there are difficult people out there. Don't worry about that for now…you can cross that bridge if and when you wind up at it!
Leslie Berry lives with her husband and two young daughters in Los Altos, California, where she loves helping other moms get comfortable with motherhood and embracing the insanity with facts peppered with laughs.
She loves eating too much sushi, exercising, and jamming out on her Fender. Read more about Leslie here.